March 20, 2019 - by: Rose
Erotic fiction inspired by Elle Tan in "Country Fun"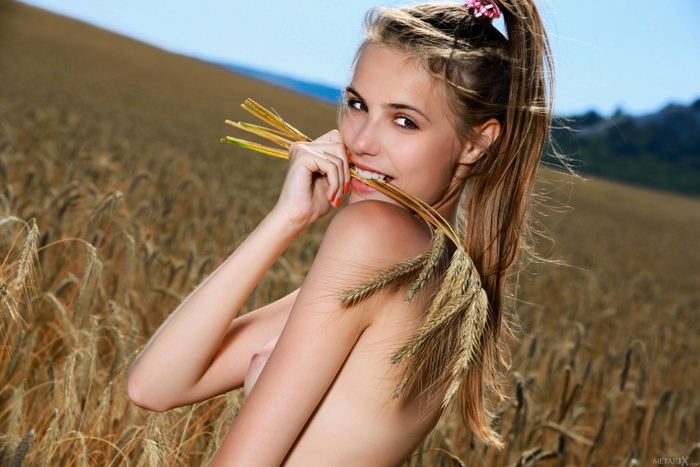 Elle runs from you, slipping away into the wheat field; but not too fast. She wants you to chase her, and you do, approaching slowly, curious to see what she has planned.
You find her gloriously naked, lying back in a clearing she's trampled down, sunlight giving her a golden glow. She smiles that naughty smile you adore as she licks her fingers and then trails them down to her breasts, teasing her nipples until you see them stiffen to points.
You hold your breath in anticipation as her hand slides down. She pauses, just for a moment, as her fingertips reach her smooth mound, her sexy tan lines drawing your eye to the pale triangle where her thighs meet. And then she parts them, and you can see the hot pink of her slit already glistening with moisture.
Her smile turns sultry as she rolls over, wiggling her ass at you temptingly. Then she rises up to her hands and knees, so you have the perfect view as one finger pushes into that tight slot. She draws it out again slowly, with a soft moan. Her eyes flutter closed as she licks her sweetness from her finger and then pushes it inside again, more forcefully this time. She's usually so shy about masturbating in front of you, so to see her behaving so wantonly is incredibly arousing.
Her fingers find their rhythm, and as her moans grow louder and more breathless, you realize it's no longer a performance for you; she's immersed in her own pleasure, fucking herself for real, intent on the sensations her thrusting fingers are provoking. You keep silent, half believing she's forgotten you're there. You can see her body trembling, her hips rocking back to impale herself deeper, lips parted in a gasp of lust. But as she starts to orgasm, her eyes snap open, holding yours, sharing the intensity in the most intimate gaze, so it's almost as if you're experiencing it too.
And then she rolls on to her back, gasping and giggling and blushing, and beckons you closer with one wet finger…
If you enjoy erotic fiction and would like to contribute some of your own, you can email it to fanfiction@metart.com. We don't promise to post it in full, but we will pick out the juiciest bits to share! To see more stories and true confessions, check out our free fiction site, MyErotica.com
March 04, 2019 - by: Rose
Excerpt from a true confession on MyErotica.com dedicated to Satin Stone in "Wash Day 2"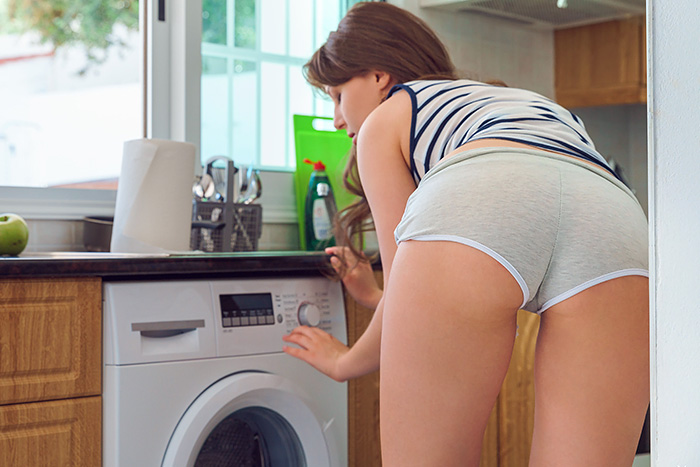 "Damn, that ass! Are you trying to kill me?"
We're cleaning up the morning after a wild night; I'm on my hands and knees with my head in the washing machine, checking for stray dog hair before I load it. I am absolutely not thinking about sex. I am thinking about laundry, deadlines, grocery shopping; except now I am thinking about sex, because I can feel his eyes on my ass. I guess my little shorts are pretty tight.
"Come on baby, shake that ass for me," he says.
I laugh, wiggling my rear, hearing him groan. He's an ass man, and I know he's already picturing bending me over the washer and fucking me slow and steady from behind. And now I'm picturing it too and I can feel my shorts getting creamy where they're snug against my pussy, the seam in the perfect spot to tease between my lips.
"I'm amazed you can even get it up after last night," I say.
"That ass could wake the dead," he says. "Hey, I have an idea…" He steps closer and I'm expecting to feel his big hands grab my ass cheeks; but instead he reaches past me to the laundry basket and stuffs the contents into the washer. "I've never fucked you over this bad boy, have I?" he grins. I watch him measure out detergent and fabric softener, concentrating despite the growing bulge tenting out his pants. He turns the machine on, and I bend over it obligingly, feeling the first rumbles as it fills with water and the drum begins to turn.
Now his hands do move to my ass, stroking and squeezing. He pushes up against me, his cock rigid, pressing between my cheeks. I can't help squirming, needing the friction against my pussy, shorts clinging stickily. How the hell does he get me this horny, this quickly, every single time?
I can feel him laughing to himself as he rocks against me. I'd call it dry humping but the anticipation and the vibrations from the washer have me soaking wet. He slides my shorts down, peeling them away from my juiced up slit, kneeling, spreading my cheeks. I know he's taking a good long look, admiring my tight asshole.
He makes me gasp by touching the wet tip of his tongue to my tight pucker, before running it down into the slick groove between my pussy lips. He grips my cheeks tighter to make my lips peel open for his tongue, and I shuffle my feet wider apart, granting him the most intimate access. His firm lapping at my clit works its magic, so when he wets up his fingers in my pussy and presses one against my asshole I relax and let him slide it in. The insistent probing of his finger causes delicious sensations that conspire with the ripples of pleasure created by his dancing tongue and the steady throb of the machine to drive me crazy.
My pussy is aching to be filled. I need his cock in me, now.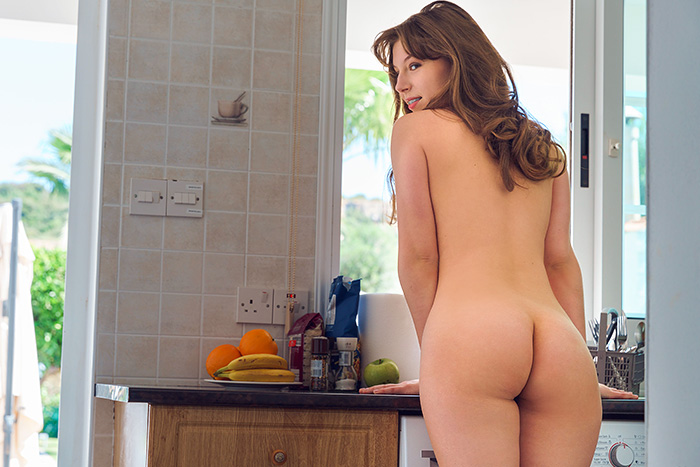 I only have to tell him, fuck me, and he's on his feet, pants down, the head of his cock nudging against my soaked opening. He holds me in that desperate state of anticipation, my whole body vibrating with need – then thrusts into me. That blissful moment of penetration, his cock stretching me open, is perfection; better even than orgasm.
He pulls back and drives in again just to hear me moan, then again and again, the giddy rush of endorphins making me lightheaded. I'm soon pushing back to meet each stroke as he slams into me, his fingers gripping my hips, our flesh slapping, the rumbling vibration of the washer rising with our mingled cries.
I don't want to cum yet, I want to ride the waves of heat and spiralling tension that sweep through me each time his cock plunges in, keeping me in this suspended state of cock-drunk delirium; but he knows how to play my body like a virtuoso. He thrusts into me to the hilt and stays buried deep, grinding on my G-spot as he reaches around to rub my clit. In seconds my cunt is clutching and spasming around his shaft, my orgasm exploding through me.
He slides out slowly and carefully when I stop shaking, lets me sink to my knees to taste myself from his cock. I lose myself in licking long stripes up his shaft, my body slowly calming and shifting into that utterly engrossed, exultant state that suffuses me whenever I suck cock. Lips wrapped around it, I take it deeper and deeper, gradually increasing the pressure, relaxing my throat to engulf him. I pause at the base, inhaling his scent, lips tight around the thick root stretching my lips wide, tongue lapping the underside. His hand is around my ponytail, holding my head still as I let him set the rhythm and fuck my mouth; then pulling me off him with a groan as my sucking threatens to push him over the edge.
Now he lifts me to my feet, then picks me up and sets me down on top of the washer. The metal is shockingly cold against my bare ass. He squeezes his shaft with his fingers to make the rising pressure subside, and then thrusts back into me, roughly, grinning as the spin cycle suddenly kicks in. The tremors career through me, accelerating wildly until it feels like I'm sitting on a giant vibrator. It's so intense all I can do is hang on as he power-fucks me. The machine kicks up another notch, shaking and bumping, each jolt catching me off-guard and sending a spike of sensation through me. We rise to a climax together, the washer and I; he plunges in deep and holds me tight, impaled on his cock, growling as he feels my cunt pulse erratically around him. He grips my ass with both hands, ramming in even deeper; and then he's cumming too, tugging my hair and biting my neck, his cock jerking inside me, a hot gush filling me. We come down gradually, along with the washer, laughing at how crazy-intense it felt. We've had plenty of fierce and feverish sex, but nothing quite so powerfully mechanized.
More hot stories here
Amazing Content

Become Affiliated

Account & Services

Social
18 U.S.C. 2257 Record-Keeping Requirements Compliance Statement.

Warning - This site contains adult material of a sexual nature - you must be of legal age in your area to view this material.
All materials on metartx.com, are copyright © 2019 metartx.com. All models were at least 18 years of age when photographed.
0.16.0 2440ab