February 17, 2019 - by: Rose
Erotic fiction inspired by Sybil A in "Dress To Impress 2"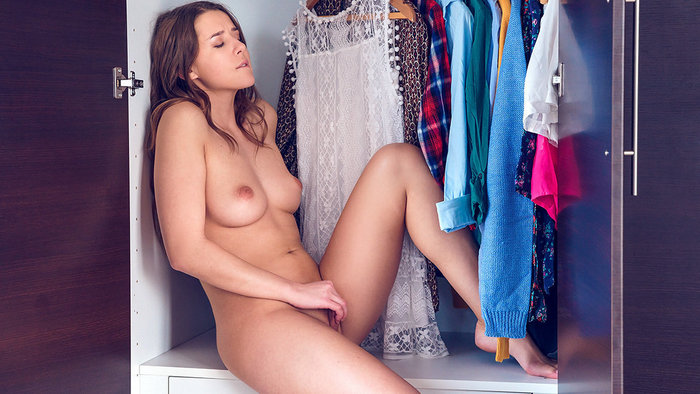 Waiting for Sybil to get ready can take minutes or hours – and honestly, the longer the better, because she'll always let you watch. First, she undresses; and no matter how many times you've seen those perfect breasts, the moment when her shirt falls open to reveal them is always breathtaking. Today she pretends not to hear your involuntary murmur of approval, sorting through her underwear drawer and choosing a white lace bra that enhances her divine cleavage and shows a hint of nipple. She slips her shorts off, bending forward teasingly so you catch a glimpse of her smooth, plump pussy lips as she pulls on the matching panties.
She's not done making you wait yet, so she takes the sexy lingerie off and puts on a pretty turquoise set that makes her look good enough to eat. She picks out a dress; surely the show's not over yet, not when she's worked you up into a fever pitch of anticipation? But no, she's turned herself on too, and now she looks right at you and gives you that naughty smile, the one that says she knows exactly what you want to see next.
The bra comes off and she strokes and squeezes those beautiful breasts. She's too impatient for pleasure to keep teasing now and her panties rapidly follow, so her fingers can find their way straight to her clit, rubbing in rapid circles, making her gasp and arch her back. Is she so immersed in her own sensual enjoyment that she's forgotten you're watching? Oh, not at all; her searing hot gaze as she sits and spreads her thighs wide tells you how excited she is to feel your eyes on her.
Her fingers move faster, drawing out her orgasm until it explodes through her, so intense it makes her body shake like a leaf. She catches her breath slowly, smiling, a little shy now. She should really get dressed… but there's still time to play, if you'd like to?
If you enjoy erotic fiction and would like to contribute some of your own, you can email it to fanfiction@metart.com. We don't promise to post it in full, but we will pick out the juiciest bits to share! To see more stories and true confessions, check out our free fiction site, MyErotica.com
Latest Comments
There are no recent comments
Amazing Content

Become Affiliated

Account & Services

Social
18 U.S.C. 2257 Record-Keeping Requirements Compliance Statement.

Warning - This site contains adult material of a sexual nature - you must be of legal age in your area to view this material.
All materials on metartx.com, are copyright © 2019 metartx.com. All models were at least 18 years of age when photographed.
0.23.0 0046ce