January 28, 2019 - by: Rose
Erotic fiction inspired by Lena Raz in "After Work"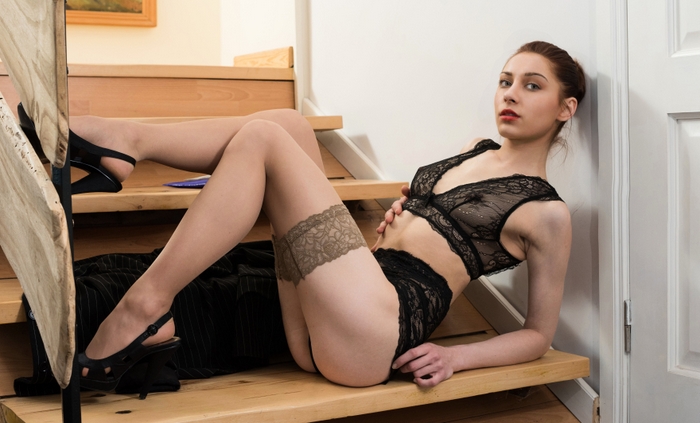 Lena looks so demure in her tight jacket and heels, her hair pinned up in a severe bun – but you know different. After a day spent exchanging dirty messages, her pussy is throbbing under that tight skirt, excitement moistening her panties.
She can't even wait to get home; as soon as the working day is done, she makes straight for the spot on the stairs where she knows the security camera will find her. You're the only one left at the security desk, and this private show is for you, and you alone.
Sliding her skirt up her thighs, flashing the lace stocking tops that she knows turn you on like crazy, she starts to tease, rubbing her hot pussy through her panties. You wonder if her fingers are getting wet. You wish it were you touching her like that. She's too horny to draw out the tease though, and soon tugs the panties away from her sticky crotch, baring her shaved slit to the camera. You imagine you can see cream glistening between her lips as she gets on her knees, wriggling her beautiful ass, pushing her fingers inside. Yes, fuck yourself, just like that, you silently urge her on, loving the sexy way her slender body bucks and writhes under her own touch.
For a moment you think she's forgotten you're watching – she's so lost in her own pleasure – but then she grabs her pen to give you a naughty show, twirling it around in the slippery entrance to her slit, dipping it deeper. Her back arches as her orgasm hits – the first of many tonight, if you know Lena – and although you can't hear her gasps and moans you can imagine them.
Looking up at the camera, she blows you a kiss as she straightens her clothes. And then she's gone; but she'll be waiting for you in your usual spot…
If you enjoy erotic fiction and would like to contribute some of your own, you can email it to fanfiction@metart.com. We don't promise to post it in full, but we will pick out the juiciest bits to share! To see more stories and true confessions, check out our free fiction site, MyErotica.com
Latest Comments
There are no recent comments
Amazing Content

Become Affiliated

Account & Services

Social
18 U.S.C. 2257 Record-Keeping Requirements Compliance Statement
Warning - This site contains adult material of a sexual nature - you must be of legal age in your area to view this material.
All materials on metartx.com, are copyright © 2019 metartx.com. All models were at least 18 years of age when photographed.
0.11.7