January 28, 2019 - by: Rose
Erotic fiction inspired by Lena Raz in "After Work"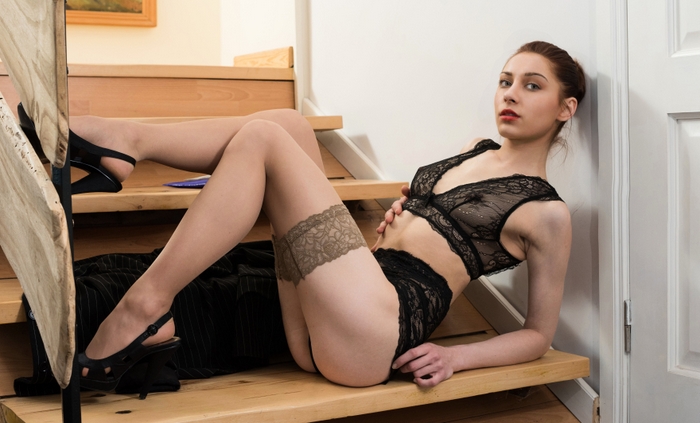 Lena looks so demure in her tight jacket and heels, her hair pinned up in a severe bun – but you know different. After a day spent exchanging dirty messages, her pussy is throbbing under that tight skirt, excitement moistening her panties.
She can't even wait to get home; as soon as the working day is done, she makes straight for the spot on the stairs where she knows the security camera will find her. You're the only one left at the security desk, and this private show is for you, and you alone.
Sliding her skirt up her thighs, flashing the lace stocking tops that she knows turn you on like crazy, she starts to tease, rubbing her hot pussy through her panties. You wonder if her fingers are getting wet. You wish it were you touching her like that. She's too horny to draw out the tease though, and soon tugs the panties away from her sticky crotch, baring her shaved slit to the camera. You imagine you can see cream glistening between her lips as she gets on her knees, wriggling her beautiful ass, pushing her fingers inside. Yes, fuck yourself, just like that, you silently urge her on, loving the sexy way her slender body bucks and writhes under her own touch.
For a moment you think she's forgotten you're watching – she's so lost in her own pleasure – but then she grabs her pen to give you a naughty show, twirling it around in the slippery entrance to her slit, dipping it deeper. Her back arches as her orgasm hits – the first of many tonight, if you know Lena – and although you can't hear her gasps and moans you can imagine them.
Looking up at the camera, she blows you a kiss as she straightens her clothes. And then she's gone; but she'll be waiting for you in your usual spot…
If you enjoy erotic fiction and would like to contribute some of your own, you can email it to fanfiction@metart.com. We don't promise to post it in full, but we will pick out the juiciest bits to share! To see more stories and true confessions, check out our free fiction site, MyErotica.com
January 14, 2019 - by: Rose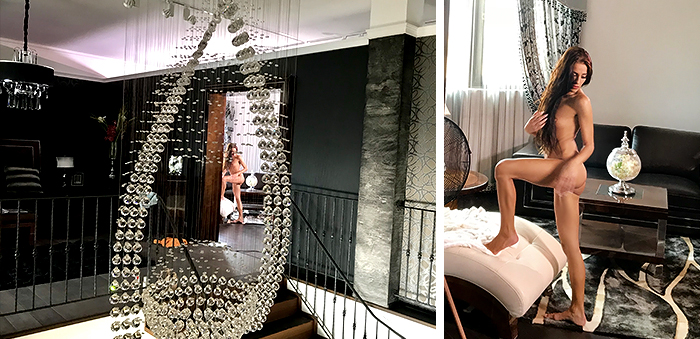 If you enjoyed seeing stunning Eveline stimulate her stiff nipples and soaked pussy with an ice cube in John Chalk's highly arousing movie "Cool 2" recently, here's a chance to see the action from behind the scenes.
The 25-year-old Czech brunette shows off her slender, athletic body to full effect as she poses in the luxurious location, refusing to be overshadowed even by the giant chandelier as she enjoys her own sensual touch.
In fact you won't have eyes for anything else, as Eveline takes the ice cube between her luscious lips, then trails it over her beautiful breasts and down between her thighs, stroking it over the juicy pink folds of her puffy pussy. A girl this hot could melt the polar ice caps, so it's no surprise that she soon resorts to using her fingers to frig herself to a powerful orgasm.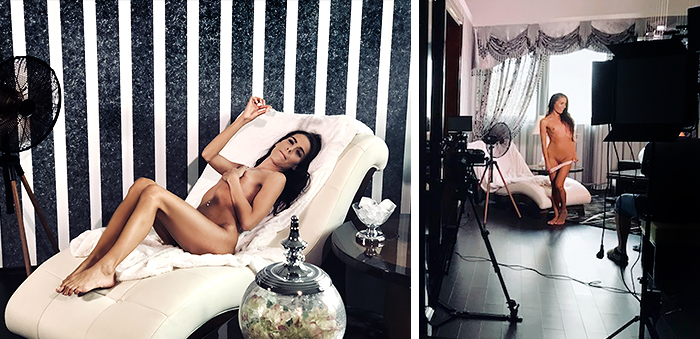 January 06, 2019 - by: Junkman
Erotic fiction inspired by Lucretia K in "Hard to Paint When You're Bored 2"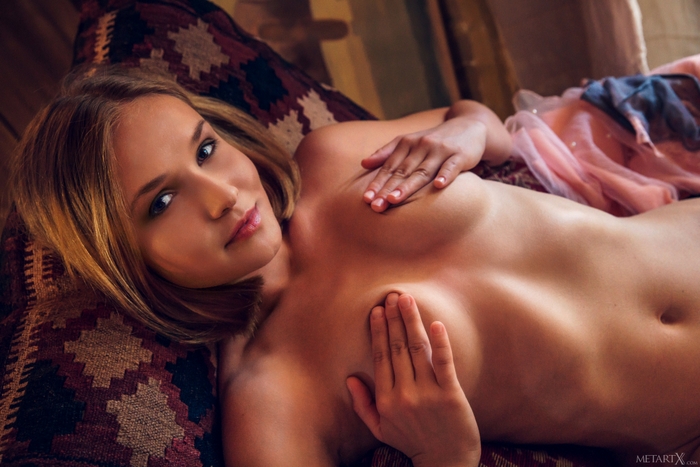 When Lucretia paints, she likes to wear clothes she can move in. The skirt came from the bottom of her dresser drawer. Salmon pink with a lace overlay embedded with pearl beads, it's too fancy for painting, but so short it doesn't restrict her long legs. When she leans over for a closer inspection of her work, the details she reveals underneath give me the tingles. She looks like a fairy painting herself a forest of flowers to call home.
"A fairy, huh," she says. "Is that a good thing?"
"It's a magical thing," I say.
The sun brings out the gold in her light brown hair. A flowery tank top exposes her shoulders, which she smudges with paint from soft touches. The breeze carries the smell of solvents and sends her dress fleeing up her thighs.
She paints with vibrant colors yet still seems uninspired. She's distracted by the thought of a stroke of a different sort.
"Come, watch me inside," she says.
Art is a reflection of the artist. Lucretia's body is the canvas. Her hand is the brush. She's ready to paint in magical colors.
Her hands clutch her breasts. She reaches down under her skirt—the artist always has to touch and retouch—and wiggles her fingers over the soft spot in her underwear. Her shirt comes off. Her breasts look slightly embellished by her maker for her petite frame.
Lucretia leans back into the corner, floating on her tippy toes as she displaces her lacy panties with four fingers rubbed wet. Her sexy panties look best when they are pulled down around her knees. She bends over, slipping her fingers back and forth. Several disappear inside her and she can't stop until she needs to take a seat. She continues to thrust her fingers in and out before returning to her clit.
She touches herself like she paints the pistil of a lily. There is precision. It's all in her fingertips. She strokes her love petals delicately until they burst with life.
A leg dangles over the arm of the chair. Her toes curl and her language is distilled into a mysterious melody. She moans in a rising pitch. Her breathing shortens. Those brown eyes lull me into a sense of stillness.
Paint me a finer picture and I will reveal the secret place where fairies dream.
About the author: The Junkman is a contributing writer for the MetArt Network, blending his twin passions for erotic storytelling and high-class porn. He shares a range of musings at JunkPixels.com

If you enjoy erotic fiction and would like to contribute some of your own, you can email it to fanfiction@metart.com. We don't promise to post it in full, but we will pick out the juiciest bits to share! To see more stories and true confessions, check out our free fiction site, MyErotica.com
Amazing Content

Become Affiliated

Account & Services

Social
18 U.S.C. 2257 Record-Keeping Requirements Compliance Statement.

Warning - This site contains adult material of a sexual nature - you must be of legal age in your area to view this material.
All materials on metartx.com, are copyright © 2019 metartx.com. All models were at least 18 years of age when photographed.
0.16.0 2440ab