December 16, 2018 - by: Peter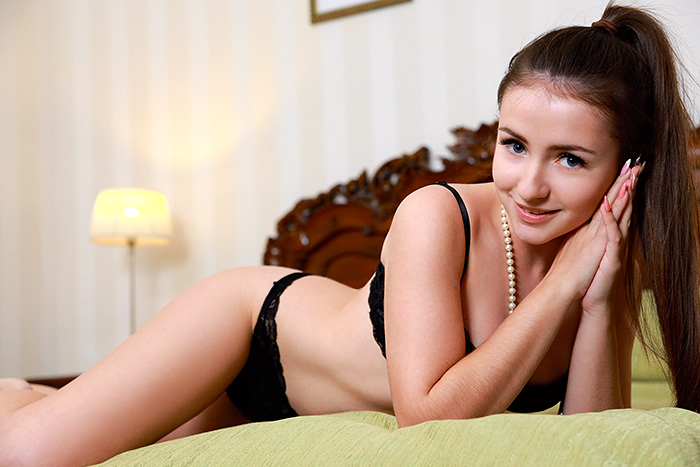 Having just set eyes on your new MetArt X model Mariana Tipa, I can confirm that "Simply" is a great title for her debut, because she is simply perfect, simply adorable, and I am simply lust-struck!
She's so cute and perky, I can just imagine her as a circus performer in a tight, skimpy costume, suspended above the ground doing some kind of daring act where she spins and twirls in a hoop with her long hair whipping around.
There's a shot of her lying on her bed on her belly, resting her face on her arms, and she looks so irresistible. Her blue eyes and sweet smile just make my heart melt… while her incredible body makes another part of me do the polar opposite.
Her breasts are the perfect size to fit my hands, with those luscious pink nipples, which look so tempting to suck. Cute as she is, she has that thing where she can switch from sweet to sultry in a heartbeat. When she sits with her legs spread wide, fingers teasing her shaved pussy open, she has such a horny look on her face that there's no doubting her sexual confidence and horny appetite. If it were possible to actually climb into my computer screen I'd be pulling her close for a long, passionate kiss right now…
So thank you, MetArt X, for discovering this stunning new starlet, and I hope you'll be featuring her often, because I am totally smitten!
Latest Comments
There are no recent comments
Amazing Content

Become Affiliated

Account & Services

Social
18 U.S.C. 2257 Record-Keeping Requirements Compliance Statement
Warning - This site contains adult material of a sexual nature - you must be of legal age in your area to view this material.
All materials on metartx.com, are copyright © 2019 metartx.com. All models were at least 18 years of age when photographed.
0.11.7