December 10, 2018 - by: Michael
Erotic fiction inspired by Lena Anderson in "Couldn't Resist"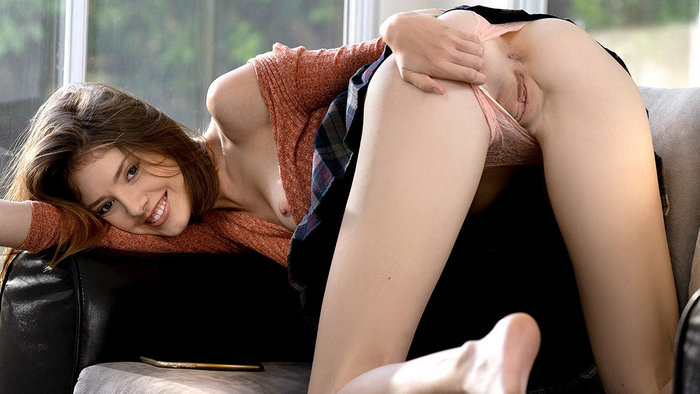 Nobody can resist Lena… not even Lena herself. Even when she's trying to act casual, chatting to you, scrolling through her phone, she's given away by those stiff nipples poking through her top, making their presence felt. Lena's down to fuck, no doubt about it… and she has a very special way of making sure you are, too.
Just watch her as she tugs her top down so those perfectly pert breasts bounce into view. That got your attention, didn't it? Her nipples are so hard, she must have been thinking about this for ages. So were you, admit it! But it still takes your breath away when she turns onto her knees and flips up her little plaid skirt to show off her incredible ass, cheeks so smooth and firm and round. Her peach lace panties nestle between them, just about covering her pussy.
She checks to make sure you're watching – of course you're watching! – as she takes off her top and shimmies out of her skirt, only her panties hiding her nakedness. And then… ohhhhh…. then she slides her hand inside those snug panties, so you can see her fingers moving as she touches herself.
She doesn't tease you like that for too long before succumbing to her own need to see her desire reflected in your eyes. She peels the panties off and lies back with her legs spread, using both hands to open her pussy up and rub the silky-smooth slit, fingers dancing on her clit. Her whole pussy flushes bright pink almost immediately, she's so turned on. Has she forgotten you're watching, so immersed in her private pleasure? No; she looks right at you, her naughty smile turning into a gasp as she pushes a finger between her tight folds. It plunges in up to the knuckle, faster, harder, her hips rocking to ride the sensation as her pleasure builds.
And suddenly she stops, tasting her sweetness from her fingers, looking at you again with a shy little laugh. And you understand; she didn't do it to tease you, or because she couldn't resist. She did it to show you how she likes it, and now it's your turn…
If you enjoy erotic fiction and would like to contribute some of your own, you can email it to fanfiction@metart.com. We don't promise to post it in full, but we will pick out the juiciest bits to share! To see more stories and true confessions, check out our free fiction site, MyErotica.com
Latest Comments
There are no recent comments
Amazing Content

Become Affiliated

Account & Services

Social
18 U.S.C. 2257 Record-Keeping Requirements Compliance Statement
Warning - This site contains adult material of a sexual nature - you must be of legal age in your area to view this material.
All materials on metartx.com, are copyright © 2019 metartx.com. All models were at least 18 years of age when photographed.
0.11.7