November 05, 2018 - by: George
Erotic fiction inspired by Adria Rae in "Red Shades"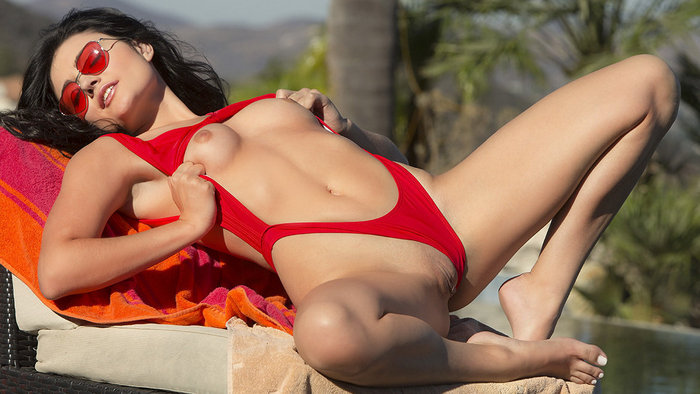 Saturday afternoon I drove up to see Adria at her secluded espresso stand. She was so exotic looking, wearing nothing but a skimpy swimsuit on her slim, shapely, caffe latte body.
"Hi Greg, I can't get that dog walker app to work!" she greeted me.
I messed around with it for a bit and then showed it to her on my phone. She needed a walker because she had a beautiful puppy, and no one to walk her while she was at work.
"Is she in your car right now?" I asked. "I can walk her. I just got off work and I've got time."
"You sure? She's a handful."
"I'll bet – is she like you?"
"You'll see. I'll get my robe on, wait a sec." Adria pulled on a skimpy satin robe tied with a belt and walked me over to her car in those tall stripper heels, all long tan legs and wild dark hair. No one was around.
"Oops, my titties popped out," she grinned, trying to stuff her pert boobies back inside her robe. She's such a cock tease!
Her dog, Shani, was squirming and wagging her tail with pleasure at being out of the car. She was a real good dog so we took a nice long walk over to a local park and back, a good leg stretch for us both. Coming back, Shani was ecstatic at seeing her mom again and Adria threw on her robe loosely to come out and get her.
Adria gave me a big hug, all slim arms and boobs against my chest. "Thanks Greg, that was so nice of you." My hands found their way to her smooth-as-silk firm butt cheeks.
"Mmmm, ya like that Greg?"
I did. I gave them a nice hard squeeze and they felt like heaven. Adria turned her back to me and ground her ass into my lap, hands on the wall of her stand and grinning over her shoulder. I pressed her into the wall a bit with my stiffening joint between those perfect cheeks and my fingers finding her nipples, rolling them between thumb and fingers until they were stiff.
Adria didn't back off but kept rolling her ass around my rod. With a wild look in her eyes, she slipped her hand inside my pants to grasp my cock and stroke it slowly.
"Come inside now," she said, so the dog, Adria and I all piled into her tiny coffee stand and she pulled me into the storeroom, out of sight. While the dog sniffed and snuffled around I pushed Adria up against the wall again, pulling down her swimsuit while I dropped to my knees and spread her cheeks. My tongue found her slit and I lapped at her smooth, shaved mound until I found her salty sweetness, licking at the soft and rigid folds of her flowing pussy and around her tight asshole. I worked on her delicious cooze until her legs began to shake, but I wanted it all and I wasn't using my mind to do any thinking now. Unlimbering my rod, I locked it between her thighs and tight up against her wetness, stroking slowly so she could feel me there.
Normally it cost me twenty bucks just to grope her boobs at the stand, so I had to ask, "How much is this going to set me back?"
"Just shut the fuck up Greg, and don't stop!"
She reached down to guide me inside her. She was small and tight but very slippery, even so it took several strokes before I was completely in there. Feeling every bump and vein slow sliding into her pussy was just ecstasy, but we didn't have much time; she was still on the job and I didn't want to get her fired. Lifting her arms up over her head I held her there while pounding her hard. I could tell she liked being dominated by her pleadings and moans of pleasure. She started cumming and soon I was ready to bust a nut.
"Can I cum inside you?"
"No! That would be too much, tons of guys see my pussy. In my mouth, ok?" She dropped down and took me into her hot little mouth with that long, pink tongue slathering me while she stroked it. That was all too much for me and I had to let it go, squirting my hot jizz. She expertly caught every drop, eliminating all the creamy evidence with a couple swallows.
One long, hot, semen-y kiss later and she was pushing me out the door. Just then I heard a truck pulling in off the street so I scampered to my car. The things I have to do for a nice cup of coffee!
If you enjoy erotic fiction and would like to contribute some of your own, you can email it to fanfiction@metart.com. We don't promise to post it in full, but we will pick out the juiciest bits to share! To see more stories and true confessions, check out our free fiction site, MyErotica.com
Amazing Content

Become Affiliated

Account & Services

Social