October 15, 2018 - by: Michael
In praise of Kitri in "Dancing On The Bridge 2"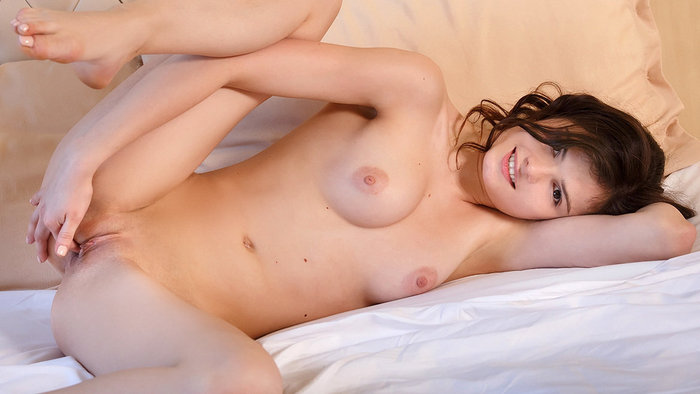 It's the musical that's yet to be made, it's the movie sensation of the year that no major theater will ever dare to show – it's the stunning, sexy, gorgeous dancer Kitri performing in "Dancing on the Bridge 2"!
A movie that features ballet might not sound erotic unless you have a ballerina fetish, but the way Kitri moves has me so entranced I might even consider going to see a mainstream (clothes on) ballet performance. The excellent camera work and direction from Don Caravaggio gives the opening scene on the bridge a big Hollywood musical feel, and Kitri is so talented and graceful as she dances her way from one side to the other. In fact, if you were only to watch the first three minutes, you could easily be forgiven for expecting that Kitri will break into song just as she reaches the middle of the bridge. I watched her dance over that walkway again and again; it was that impressive.
Naturally, I also watched the scene after the bridge, but for entirely different reasons. Yes, I was amazed by the high quality of the performance during the bridge dance, but when Kitri climbs onto her bed, throws off her dress and starts to pleasure her pussy, well, that's even more of a thrill.
It seems like she's so totally energized by her dance that she just couldn't want to get home and play with herself, because there is no slow, teasing build up, you can see she is totally horny. She practically tears her dress off, and she's not wearing any underwear so she's all ready to go, no inhibitions. She's so horny for it that her wet pussy takes her fingers inside almost immediately, and she drills herself hard and fast. Her breath comes in rapid gasps, and you can sense how urgent her need for release has become.
If she danced the way she played with herself, if she moved around in public the way she grinds and thrusts her body up off the bed and against her fingers as they slip in and out of her pussy and slide between her lips, I imagine it would be like a magnet to all the hot-blooded lovers of the world and she'd draw them to her irresistibly.
And all this is before she's turned over onto her hands and knees and started to hump her hand doggie style. Right then, when she's on her knees, that's when you can see there's no going back for her. Everybody she'd ever met could walk into that room at that very moment and I doubt she'd stop. And how many of them would want her to? To watch a girl masturbating with that kind of passion, with that insatiable desire to climax, is a beautiful sight.
The spiritual energy she has dancing on the bridge and the sexual energy she has masturbating on her bed are equally compelling, and I love how the film shows both sides of her nature. Congratulations to Kitri for putting the Art and the seX in MetArt X!
Amazing Content

Become Affiliated

Account & Services

Social