October 08, 2018 - by: Jilian
Erotic fiction inspired by Alice Shea in "Selfie"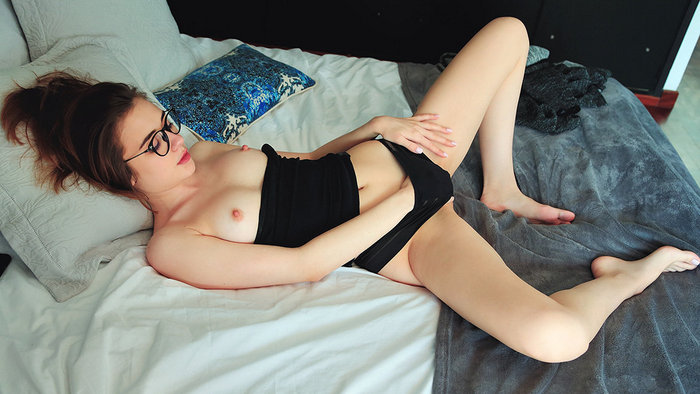 Alice sips her coffee leaning against the wall of her bedroom, dressed in a long grey cardigan, open over black T-shirt and panties. Her black-framed spectacles appear darker against her pale skin, her pretty face framed by auburn hair.
Her eyes are aflame with passion, betraying the carnal thoughts running through her mind. Moving to her bedside, she pulls off her cardigan and lets it tumble to the ground. Her hands slip the straps of her top down her pale arms, down past her pert breasts. Her nipples are taut, jutting out hard as diamonds.
Reaching for her phone, she begins to take pictures of herself. Her body, her crotch. Are they for her own entertainment, or to send to a lover? She strokes her pussy through her panties, then delves inside to rub at her slit. She can no longer hold her phone, she needs both hands to play with herself.
Sliding her panties off, she drops her legs open and runs one finger along her slit. She crooks it inside her tight hole and begins to work it in and out. Her eyes close as her body reacts to the intensely pleasurable sensations, writhing beneath her probing finger.
She needs to go deeper and lifts one leg, adding a second finger as her other hand grips her ass tightly. Her fingers thrust faster, in and out. Her mouth falls open and her breath comes in gasps as she fucks her pussy.
Over she rolls, onto her hips, reaching around to drill herself from behind as her other hand takes care of her clit. She frigs herself hard, slamming into her pussy urgently. Her free hand splays her lips open, grinding down on her clit.
Her fantasies rage on in her head, and she moves to her knees. Her hand snakes between her thighs and her fingers find her wet hole easily, diving back inside to press further into her pink folds.
It is here, with her face pressed into the sheets and her ass raised up high, that she cums. Her fingers drive her on, her clitoris sings with the heat of orgasm.
She slumps onto the bed, satisfied, glowing with satisfaction. Should she take one more selfie of her creamed-up pussy? No, the images in her head are enough… for now.
If you enjoy erotic fiction and would like to contribute some of your own, you can email it to fanfiction@metart.com. We don't promise to post it in full, but we will pick out the juiciest bits to share! To see more stories and true confessions, check out our free fiction site, MyErotica.com
Amazing Content

Become Affiliated

Account & Services

Social