September 24, 2018 - by: Naomi
Erotic fiction inspired by Hilary Wind in "Floral Mood"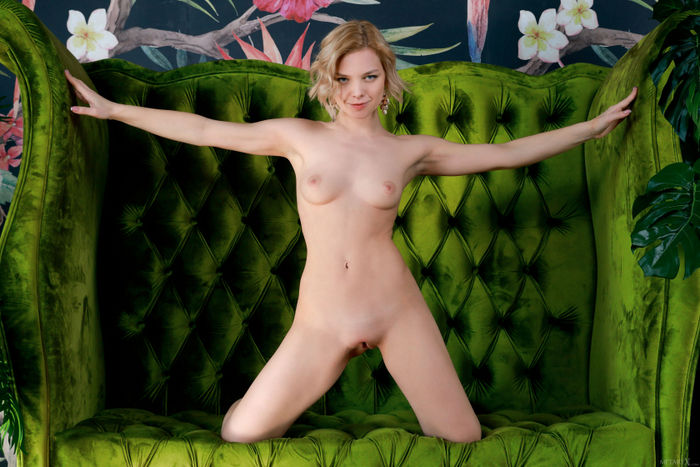 If you want to turn date night into something a little more exciting than the regular dinner, drinks and lights-out missionary fuck, why not be like me and get creative?
Date night is my domain, where I make the rules. This was my latest night out.
I took my man to a private club, members only, the kind of place where we could hire a room and not be disturbed. The owner was a friend of a friend, and allowed us to have a private function room, with a bar area, dance floor and seating area, all to ourselves after hours. Music was playing over the sound system, and there was plenty of room to dance, if we wanted. I sat my date down at the table, poured him a drink, kissed him and then pressed my finger to his lips, before he could speak.
I was wearing my come-fuck-me gold dress, so tight it clings to my ass like a second skin. So tight I know every pair of male eyes is watching me as I walk by. I wasn't wearing anything else, though, nothing except my heels.
I left him sitting there and walked across the room like I was on a catwalk, every step calculated, each one taken to make my hips and ass wiggle inside my dress. When I got to the other side of the room I turned around to look at him. I could tell he was avidly paying attention from the way he was sitting, legs apart, as if his cock were watching me through his pants.
I gave him my most seductive smile, letting him know I wanted him too. Then I unzipped my dress down the back, letting it slip down to reveal my bare breasts. It was a good place to pose, standing up against a high-backed banquette. I arched my back and stuck out my ass invitingly, my dress clinging to my curves.
I bent over, peeling my dress down off my bottom as I went, sliding it down to my feet until I was standing there butt naked except for my sexy heels, smiling at him. I brushed my fingers over my freshly shaved pussy, feeling how smooth and soft it was.
I took a seat on the banquette and spread my thighs with a naughty smile as I started stroking my slit. I leaned back and dipped a finger into the wetness pooling there, staring right at him. I watched him shift in his seat, saw his cock grow hard in his pants. But he didn't speak or move from his chair… good boy.
I pinched my nipples, felt them grow hard between my fingers, felt the mingled pleasure and pain of that pinch. It made my pussy tingle, my juices stir. He liked that, I could tell from the way he was tugging on the neck of his shirt. Now to make him love it.
I turned over in my seat, onto my knees, letting them slide apart as I grabbed the chair back. I could feel my ass cheeks parting, giving him the perfect view of my pussy, lips peeling open, juices trickling out between them.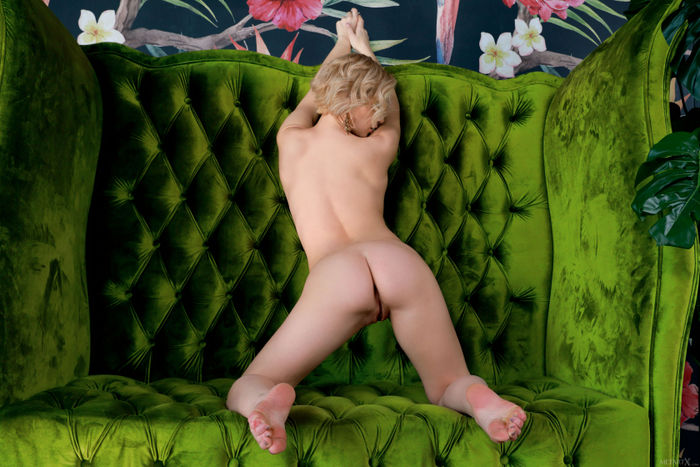 I love getting fucked in this position, feeling his hard cock thrusting into me, as deep as it can go. I get wet thinking about it, picturing the way my man's body slams up against my ass as he fucks me, the way he grabs my ass cheeks and squeezes them.
So I reached back and grabbed them myself, pulling them open for him, letting him feast his eyes on the sight of my tight asshole and juicy pussy. Damn, I was getting so wet and so turned on. Maybe I was getting off on this even more than he was. It took some control not to abandon my sexy show and just cram my fingers into my pussy like I would do if I were alone.
I lay down then, studying his reaction. He had his hand on his crotch, rubbing himself through his pants. He couldn't resist touching himself, wanting me. I wanted him too; but not yet. He had to watch me first.
I stroked my slit and pushed a finger inside my slippery hole, smearing pussy juice over it. Then I stood up and walked over to him, reveling in my nakedness. I leaned down, so low, as if I was about to reach down and grab his cock, and I fed my finger into his mouth. He licked it, sucked on it, tasting me.
"Dance with me," I whispered, "and you can have your fill of my pussy when we're done."
Then I walked back to the banquette and put on my dress. I pointed the finger he had sucked on straight at him, beckoning him over, swaying to the music.
Date night is my night. I'm in control. Always.
If you enjoy erotic fiction and would like to contribute some of your own, you can email it to fanfiction@metart.com. We don't promise to post it in full, but we will pick out the juiciest bits to share! To see more stories and true confessions, check out our free fiction site, MyErotica.com
Amazing Content

Become Affiliated

Account & Services

Social