September 17, 2018 - by: Marie
Erotic Fiction inspired by Adel C in "Sweet Home 2"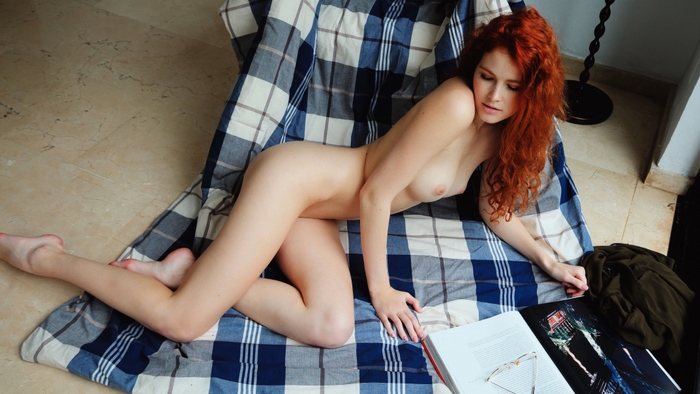 Sometimes it's impossible to ignore the demands of your body, don't you think? Though I try so hard to be a good girl, to favor intellectual pursuits over carnal pleasures, there are times when I just can't ignore my own physical needs.
It's funny how these desires come to me at the most unlikely times…
Only this morning I was sitting in my rocking chair, studying a heavy, hardback book on contemporary art, when a wave of carnality hit me. I tried to ignore it – this was not the time to be giving in to my body's requests, I reasoned. My mind needed nourishment.
But my mind was having none of it. My mind presented some ideas of its own. Ideas in which studly men with erect cocks stood in front of me, like exhibits in a gallery, in various poses, each one offering a different sexual pleasure.
My mind had taken control and suddenly there I was, unbuttoning my shirt and toying with my nipples as the fantasy in my head played out. I was in a white walled gallery, alone but for the exhibits, my high heels clicking on the wooden floor. I was dressed as I was in reality, in a dark blouse and frilly pink panties.
In my fantasy, I was wearing headphones and listening to the commentary on the art in the room. Except it wasn't art, and it wasn't a commentary, it was like an audio menu that listed each stud in the room, told me their first name and what they could do for me.
Michael, for instance, was on his knees, hands out in front of him, bent forward just a little, his hard cock poised. "Michael will take you from behind," the commentary said. "Get down on the floor in front of him on your hands and knees, then move backward until you can feel his penis against your vagina and he will begin."
I put my book down on the floor and let my mind walk me around the room, introducing me to all the men in there as the commentary explained what sexual delights they provided.
My hand had wound its way into my panties and I was stroking my slit softly, eyes closed, feasting on the fantasy; my pussy getting wetter with every passing second.
In my head, I'd reached Trent. He was slender, youthful and cute, sitting cross-legged and hunched over, with his arms up and his face forward, head tilted and mouth open. "Take a seat in front of Trent," the commentary said, "and he will eat your pussy for as long as you like."
That was where I stopped, sitting and spreading my legs, just like I was at home. Instantly, I imagined Trent began to lap at my hole, his tongue probing my folds, flickering over my clit, dipping inside me. In reality my fingers were caressing my pussy and I was so wet, my juices spreading as my fingers roamed up and down my slit. I circled my clit, rubbing my cream over it, feeling it swell. It throbbed at the touch, responding to my waking dream, twitching as I imagined Trent's tongue pressing up against it.
Then I moved off in my mind to another exhibit. Emilio was on his back, his rock-hard cock pointing straight up. "Turn your back on Emilio and sit down on his shaft. Ride him for all he's worth," the commentator said, and I did exactly as I was told. Now I was fingering my pussy so hard, two fingers deep inside me, imagining it was Emilio's cock stretching me wide and plunging deep inside me.
I moved quickly to another cock, this one belonging to James, who was burly and muscular, kneeling with his knees wide apart so that his cock was close to the ground. I had lost the headphones now, but I knew what to do with James. I lay down on my side – both in reality and in my fantasy – and slid one leg beneath his balls, felt them dragging up the inside of my thigh as I moved into position. I raised one knee when his dick was nudging my ass and imagined him springing to life, entering me while I lay on my side like this, pounding into me to a steady rhythm. I enhanced the sexual fantasy with my own hand as I masturbated, slapping my palm against me as if it were James's balls.
Time for Michael. I was on my knees, one hand reaching around my ass, fucking myself with my fingers. In my fantasy it was Michael drilling into me from behind, his hands on my hips, his sweat dripping from his chin and onto my asshole.
My excitement was increasing, in my head and in my home, feeling my orgasm building fast. As I came around my driving fingers, I fantasized that every exhibit in the room came too, surrounding me and jerking off over me, their cum coating my skin, spraying over my breasts, my face, my pussy and my ass.
It took some time for me to get up from the floor, and I just couldn't find the will to return to my book then. I went out instead – to an art gallery.
"If I see any of those studs," I thought as I walked through the door, "I'm going to fuck them right then and there and call it the greatest piece of art in the world!"
If you enjoy erotic fiction and would like to contribute some of your own, you can email it to fanfiction@metart.com. We don't promise to post it in full, but we will pick out the juiciest bits to share! To see more stories and true confessions, check out our free fiction site, MyErotica.com
Amazing Content

Become Affiliated

Account & Services

Social