September 10, 2018 - by: Peter
Erotic Fiction inspired by Gracie in "Wild and Rough"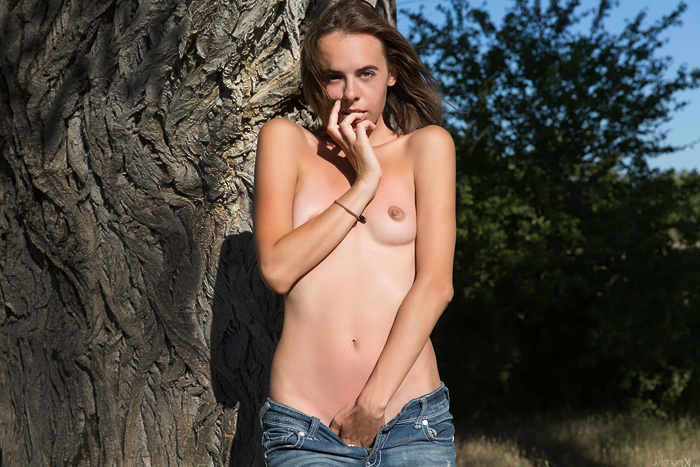 I'd been at my folks' country retreat for a week; recuperating they called it, I called it stuck in the middle of nowhere with a broken leg and nothing to do. Sure, the views were beautiful but there's only so much looking a guy can do, right?
The one thing that broke the monotony of each day was catching a glimpse of the hot babe from the next homestead. Slim, sassy and tanned, I had no idea who she was but my imagination ran wild about her for days on end. She was a typical country girl, into riding, fresh air, good eating, and wild as they come – I'd settled on this image of her after days of fantasizing, anyway.
She walked by my place pretty much every day. I didn't know where she was going, but she always came back around the same time in the afternoon. It had become a routine for me to watch her go by through the window in the morning, and then be out on the porch in the afternoon to catch sight of her on her way back. We'd reached a point where she would smile and wave at me and I would do the same. If I wasn't stuck in a cast I would have made my move, but in this state the best I could do was smile and wave, smile and wave.
And then a couple of days before I was due to go home and get the cast off, she blew my mind. I was sitting in my usual spot on the porch, leg out in front of me, sipping on a cold one, watching her come up the hill through the trees and the parched grasses. She was looking sexy as ever in a simple shirt and denim shorts, and I let my mind wander once more, thinking about all the things I would love to do with her.
By the time she looked up at me, I had a sizable boner in my pants. I waved down at her and she stopped and put her hands on her hips, gazing up at me and smiling. It seemed like she was trying to decide on something, and then her eyes lit up as if she'd made her decision.
She started to move around, swaying her hips, playing with her shirt, still looking up at me, still smiling. I couldn't believe it. Was this hot cutie really about to do what I thought she was about to do?
She froze for a moment with her shirt lifted up just beneath her titties and stared right at me, serious. Then she tied her shirt up over her belly and leaned back against a tree. Her hands moved to her breasts and she grabbed them and gave them a squeeze.
My boner was as hard as my cast right then. Nothing like this had ever happened to me before. I thought stuff like this was straight up fantasy. But now I was looking down the grassy hill watching this stunning babe getting down under a clear blue sky, and it was all for me. Was she going to come up the hill and fuck me? I couldn't move from my seat even if I wanted to…
She started swaying like she was dancing in a club, grinding her hips. It was so damned sexy. In all the weeks that I had been stuck in this cast I had never wanted to be out of it so badly. Then she stood up straight, raised her hands to her shirt and looked right at me again. Her fingers pulled her shirt up higher until I was staring at her naked titties, so perky and tanned.
She smiled again and blew me a kiss, then turned around and wiggled her ass. She tugged her shorts in tight between her cheeks and leaned up against the tree, bent over. Man, if I had been down there, I would have been grabbing that ass and pulling those shorts down to press my dick up against her pussy; but all I could do was watch.
Facing me again, she leaned back against her tree and unzipped her shorts, pushing her hand inside. I watched her fumble around, obviously playing with her pussy, fervently wishing it was my hand in there, my fingers gliding through her juicy folds, feeling her pussy getting wet.
She had her head down and her eyes closed, lost in sensation, but then she opened them and looked up at me and tugged her shorts aside. I could see her pussy! It was shaved except for a tuft of pubic hair above her clit.
I watched dumbstruck as she ran a finger over her slit, traced it up to her clit and rubbed herself gently. I watched intently, not wanting to miss a single detail from this distance, as she crooked a finger and pushed it right inside her pussy.
I was transfixed as she pulled off her shirt and shorts, smiling at me the whole time, obviously enjoying the look of disbelief on my face. She was so gorgeous, tan lines making her beautiful breasts and pussy stand out as if highlighted, hair blowing around in the gentle breeze.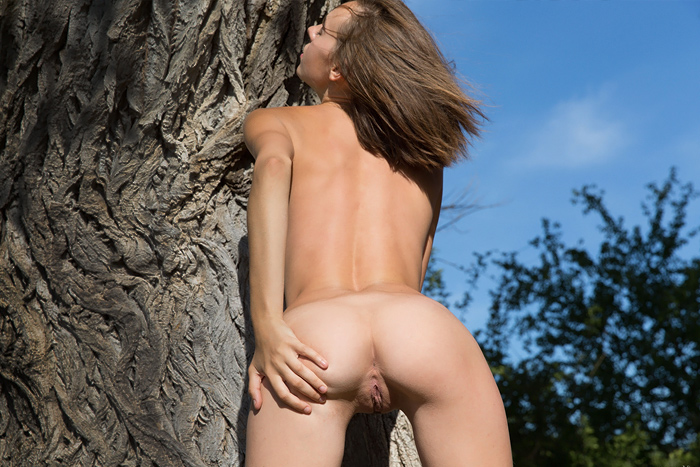 Slowly, she turned around for me, leaned into the tree and bent over, one hand on her ass cheek, pulling herself open. Her fingers crawled over her ass and made for her pussy, finding her lips and peeling them apart. Damn, I could see the inner pink so clearly now, glistening wet. If I'd been able to move I'd have vaulted over the porch and rolled down the hill to her feet, broken leg or not.
She sat down and leaned back against the base of the tree, looking up at me, with her knees apart and her hand stroking her pussy. I didn't know what to do. Should I take out my cock and start to jerk off, or was I just meant to sit and watch?
I didn't want to scare her off so I just sat there and enjoyed the show. She was teasing her pussy, fingertips tracing her slit, stroking her clit, flicking it softly as she watched me, brushing the hair from her face. She must has known she was driving me wild, because she would stroke her fingers down over her plump lips and dip them inside, just for a moment, then pull them out and stroke the wetness all over her clit again. Her head would tip backwards and her mouth would drop open every time she did it, and I so badly wanted to pull out my cock and jerk off.
She stood up and used both hands to hold her pussy open, one finger rubbing up and down her slit, getting it wet. Then she thrust her finger deeper, rocking her hips like she was riding it, and I saw her shudder with an orgasm, but just a small one, like the first of a whole chain of climaxes. My cock would give her a much bigger orgasm than that, I was thinking, imagining that sweet, hot, tight slit wrapped around my boner.
And then just as fast as it had started, it was over. She looked up at me, sucked her juice off her finger, and then got dressed rapidly, giggling. I wanted to yell down at her to wait, but I just couldn't make a sound, even as she gave me one last wave and skipped away through the grass. I watched until she was out of sight, then pulled out my cock and beat off, replaying the whole thing in my mind.
She didn't come by again before I left, but now I've had the cast removed I'm hoping that if I ever see her again, I'll be invited to play a much more active role…
If you enjoy erotic fiction and would like to contribute some of your own, you can email it to fanfiction@metart.com. We don't promise to post it in full, but we will pick out the juiciest bits to share! To see more stories and true confessions, check out our free fiction site, MyErotica.com
Amazing Content

Become Affiliated

Account & Services

Social