September 24, 2018 - by: Naomi
Erotic fiction inspired by Hilary Wind in "Floral Mood"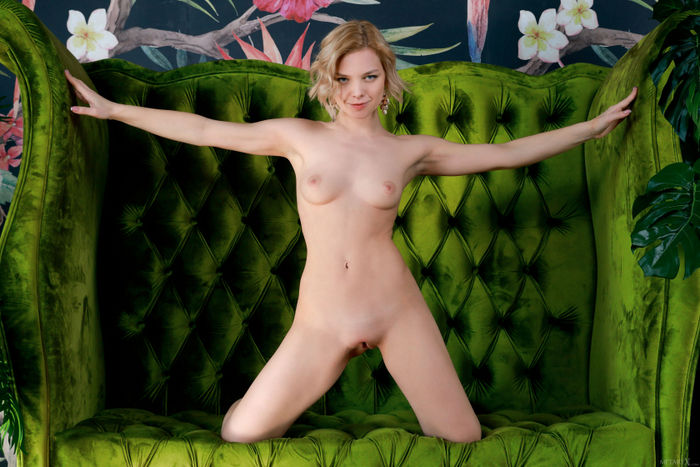 If you want to turn date night into something a little more exciting than the regular dinner, drinks and lights-out missionary fuck, why not be like me and get creative?
Date night is my domain, where I make the rules. This was my latest night out.
I took my man to a private club, members only, the kind of place where we could hire a room and not be disturbed. The owner was a friend of a friend, and allowed us to have a private function room, with a bar area, dance floor and seating area, all to ourselves after hours. Music was playing over the sound system, and there was plenty of room to dance, if we wanted. I sat my date down at the table, poured him a drink, kissed him and then pressed my finger to his lips, before he could speak.
I was wearing my come-fuck-me gold dress, so tight it clings to my ass like a second skin. So tight I know every pair of male eyes is watching me as I walk by. I wasn't wearing anything else, though, nothing except my heels.
I left him sitting there and walked across the room like I was on a catwalk, every step calculated, each one taken to make my hips and ass wiggle inside my dress. When I got to the other side of the room I turned around to look at him. I could tell he was avidly paying attention from the way he was sitting, legs apart, as if his cock were watching me through his pants.
I gave him my most seductive smile, letting him know I wanted him too. Then I unzipped my dress down the back, letting it slip down to reveal my bare breasts. It was a good place to pose, standing up against a high-backed banquette. I arched my back and stuck out my ass invitingly, my dress clinging to my curves.
I bent over, peeling my dress down off my bottom as I went, sliding it down to my feet until I was standing there butt naked except for my sexy heels, smiling at him. I brushed my fingers over my freshly shaved pussy, feeling how smooth and soft it was.
I took a seat on the banquette and spread my thighs with a naughty smile as I started stroking my slit. I leaned back and dipped a finger into the wetness pooling there, staring right at him. I watched him shift in his seat, saw his cock grow hard in his pants. But he didn't speak or move from his chair… good boy.
I pinched my nipples, felt them grow hard between my fingers, felt the mingled pleasure and pain of that pinch. It made my pussy tingle, my juices stir. He liked that, I could tell from the way he was tugging on the neck of his shirt. Now to make him love it.
I turned over in my seat, onto my knees, letting them slide apart as I grabbed the chair back. I could feel my ass cheeks parting, giving him the perfect view of my pussy, lips peeling open, juices trickling out between them.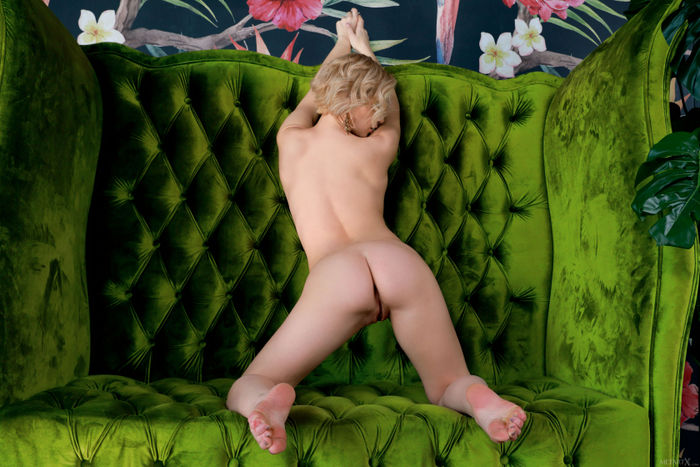 I love getting fucked in this position, feeling his hard cock thrusting into me, as deep as it can go. I get wet thinking about it, picturing the way my man's body slams up against my ass as he fucks me, the way he grabs my ass cheeks and squeezes them.
So I reached back and grabbed them myself, pulling them open for him, letting him feast his eyes on the sight of my tight asshole and juicy pussy. Damn, I was getting so wet and so turned on. Maybe I was getting off on this even more than he was. It took some control not to abandon my sexy show and just cram my fingers into my pussy like I would do if I were alone.
I lay down then, studying his reaction. He had his hand on his crotch, rubbing himself through his pants. He couldn't resist touching himself, wanting me. I wanted him too; but not yet. He had to watch me first.
I stroked my slit and pushed a finger inside my slippery hole, smearing pussy juice over it. Then I stood up and walked over to him, reveling in my nakedness. I leaned down, so low, as if I was about to reach down and grab his cock, and I fed my finger into his mouth. He licked it, sucked on it, tasting me.
"Dance with me," I whispered, "and you can have your fill of my pussy when we're done."
Then I walked back to the banquette and put on my dress. I pointed the finger he had sucked on straight at him, beckoning him over, swaying to the music.
Date night is my night. I'm in control. Always.
If you enjoy erotic fiction and would like to contribute some of your own, you can email it to fanfiction@metart.com. We don't promise to post it in full, but we will pick out the juiciest bits to share! To see more stories and true confessions, check out our free fiction site, MyErotica.com
September 17, 2018 - by: Marie
Erotic Fiction inspired by Adel C in "Sweet Home 2"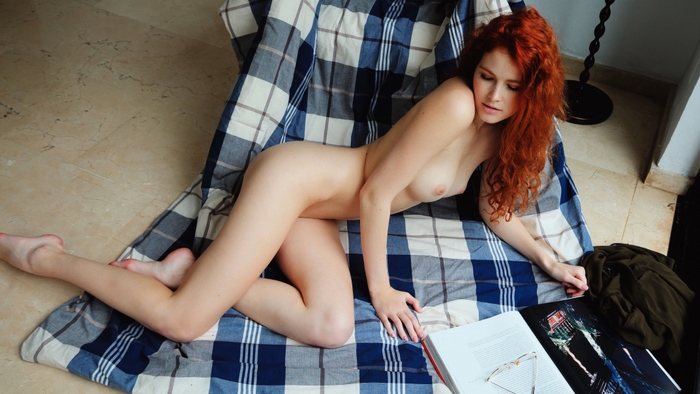 Sometimes it's impossible to ignore the demands of your body, don't you think? Though I try so hard to be a good girl, to favor intellectual pursuits over carnal pleasures, there are times when I just can't ignore my own physical needs.
It's funny how these desires come to me at the most unlikely times…
Only this morning I was sitting in my rocking chair, studying a heavy, hardback book on contemporary art, when a wave of carnality hit me. I tried to ignore it – this was not the time to be giving in to my body's requests, I reasoned. My mind needed nourishment.
But my mind was having none of it. My mind presented some ideas of its own. Ideas in which studly men with erect cocks stood in front of me, like exhibits in a gallery, in various poses, each one offering a different sexual pleasure.
My mind had taken control and suddenly there I was, unbuttoning my shirt and toying with my nipples as the fantasy in my head played out. I was in a white walled gallery, alone but for the exhibits, my high heels clicking on the wooden floor. I was dressed as I was in reality, in a dark blouse and frilly pink panties.
In my fantasy, I was wearing headphones and listening to the commentary on the art in the room. Except it wasn't art, and it wasn't a commentary, it was like an audio menu that listed each stud in the room, told me their first name and what they could do for me.
Michael, for instance, was on his knees, hands out in front of him, bent forward just a little, his hard cock poised. "Michael will take you from behind," the commentary said. "Get down on the floor in front of him on your hands and knees, then move backward until you can feel his penis against your vagina and he will begin."
I put my book down on the floor and let my mind walk me around the room, introducing me to all the men in there as the commentary explained what sexual delights they provided.
My hand had wound its way into my panties and I was stroking my slit softly, eyes closed, feasting on the fantasy; my pussy getting wetter with every passing second.
In my head, I'd reached Trent. He was slender, youthful and cute, sitting cross-legged and hunched over, with his arms up and his face forward, head tilted and mouth open. "Take a seat in front of Trent," the commentary said, "and he will eat your pussy for as long as you like."
That was where I stopped, sitting and spreading my legs, just like I was at home. Instantly, I imagined Trent began to lap at my hole, his tongue probing my folds, flickering over my clit, dipping inside me. In reality my fingers were caressing my pussy and I was so wet, my juices spreading as my fingers roamed up and down my slit. I circled my clit, rubbing my cream over it, feeling it swell. It throbbed at the touch, responding to my waking dream, twitching as I imagined Trent's tongue pressing up against it.
Then I moved off in my mind to another exhibit. Emilio was on his back, his rock-hard cock pointing straight up. "Turn your back on Emilio and sit down on his shaft. Ride him for all he's worth," the commentator said, and I did exactly as I was told. Now I was fingering my pussy so hard, two fingers deep inside me, imagining it was Emilio's cock stretching me wide and plunging deep inside me.
I moved quickly to another cock, this one belonging to James, who was burly and muscular, kneeling with his knees wide apart so that his cock was close to the ground. I had lost the headphones now, but I knew what to do with James. I lay down on my side – both in reality and in my fantasy – and slid one leg beneath his balls, felt them dragging up the inside of my thigh as I moved into position. I raised one knee when his dick was nudging my ass and imagined him springing to life, entering me while I lay on my side like this, pounding into me to a steady rhythm. I enhanced the sexual fantasy with my own hand as I masturbated, slapping my palm against me as if it were James's balls.
Time for Michael. I was on my knees, one hand reaching around my ass, fucking myself with my fingers. In my fantasy it was Michael drilling into me from behind, his hands on my hips, his sweat dripping from his chin and onto my asshole.
My excitement was increasing, in my head and in my home, feeling my orgasm building fast. As I came around my driving fingers, I fantasized that every exhibit in the room came too, surrounding me and jerking off over me, their cum coating my skin, spraying over my breasts, my face, my pussy and my ass.
It took some time for me to get up from the floor, and I just couldn't find the will to return to my book then. I went out instead – to an art gallery.
"If I see any of those studs," I thought as I walked through the door, "I'm going to fuck them right then and there and call it the greatest piece of art in the world!"
If you enjoy erotic fiction and would like to contribute some of your own, you can email it to fanfiction@metart.com. We don't promise to post it in full, but we will pick out the juiciest bits to share! To see more stories and true confessions, check out our free fiction site, MyErotica.com
September 10, 2018 - by: Peter
Erotic Fiction inspired by Gracie in "Wild and Rough"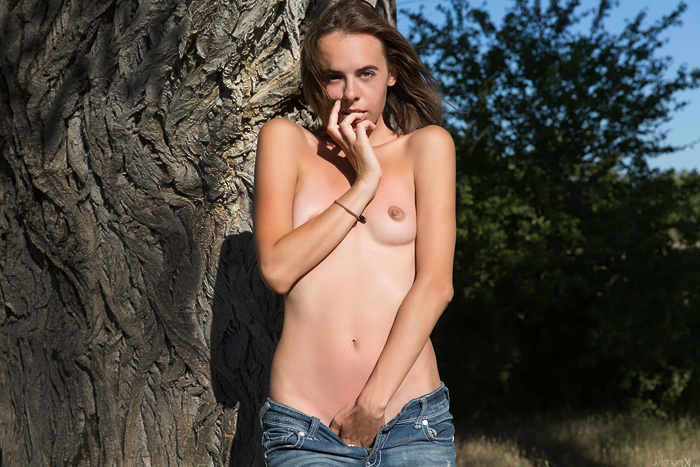 I'd been at my folks' country retreat for a week; recuperating they called it, I called it stuck in the middle of nowhere with a broken leg and nothing to do. Sure, the views were beautiful but there's only so much looking a guy can do, right?
The one thing that broke the monotony of each day was catching a glimpse of the hot babe from the next homestead. Slim, sassy and tanned, I had no idea who she was but my imagination ran wild about her for days on end. She was a typical country girl, into riding, fresh air, good eating, and wild as they come – I'd settled on this image of her after days of fantasizing, anyway.
She walked by my place pretty much every day. I didn't know where she was going, but she always came back around the same time in the afternoon. It had become a routine for me to watch her go by through the window in the morning, and then be out on the porch in the afternoon to catch sight of her on her way back. We'd reached a point where she would smile and wave at me and I would do the same. If I wasn't stuck in a cast I would have made my move, but in this state the best I could do was smile and wave, smile and wave.
And then a couple of days before I was due to go home and get the cast off, she blew my mind. I was sitting in my usual spot on the porch, leg out in front of me, sipping on a cold one, watching her come up the hill through the trees and the parched grasses. She was looking sexy as ever in a simple shirt and denim shorts, and I let my mind wander once more, thinking about all the things I would love to do with her.
By the time she looked up at me, I had a sizable boner in my pants. I waved down at her and she stopped and put her hands on her hips, gazing up at me and smiling. It seemed like she was trying to decide on something, and then her eyes lit up as if she'd made her decision.
She started to move around, swaying her hips, playing with her shirt, still looking up at me, still smiling. I couldn't believe it. Was this hot cutie really about to do what I thought she was about to do?
She froze for a moment with her shirt lifted up just beneath her titties and stared right at me, serious. Then she tied her shirt up over her belly and leaned back against a tree. Her hands moved to her breasts and she grabbed them and gave them a squeeze.
My boner was as hard as my cast right then. Nothing like this had ever happened to me before. I thought stuff like this was straight up fantasy. But now I was looking down the grassy hill watching this stunning babe getting down under a clear blue sky, and it was all for me. Was she going to come up the hill and fuck me? I couldn't move from my seat even if I wanted to…
She started swaying like she was dancing in a club, grinding her hips. It was so damned sexy. In all the weeks that I had been stuck in this cast I had never wanted to be out of it so badly. Then she stood up straight, raised her hands to her shirt and looked right at me again. Her fingers pulled her shirt up higher until I was staring at her naked titties, so perky and tanned.
She smiled again and blew me a kiss, then turned around and wiggled her ass. She tugged her shorts in tight between her cheeks and leaned up against the tree, bent over. Man, if I had been down there, I would have been grabbing that ass and pulling those shorts down to press my dick up against her pussy; but all I could do was watch.
Facing me again, she leaned back against her tree and unzipped her shorts, pushing her hand inside. I watched her fumble around, obviously playing with her pussy, fervently wishing it was my hand in there, my fingers gliding through her juicy folds, feeling her pussy getting wet.
She had her head down and her eyes closed, lost in sensation, but then she opened them and looked up at me and tugged her shorts aside. I could see her pussy! It was shaved except for a tuft of pubic hair above her clit.
I watched dumbstruck as she ran a finger over her slit, traced it up to her clit and rubbed herself gently. I watched intently, not wanting to miss a single detail from this distance, as she crooked a finger and pushed it right inside her pussy.
I was transfixed as she pulled off her shirt and shorts, smiling at me the whole time, obviously enjoying the look of disbelief on my face. She was so gorgeous, tan lines making her beautiful breasts and pussy stand out as if highlighted, hair blowing around in the gentle breeze.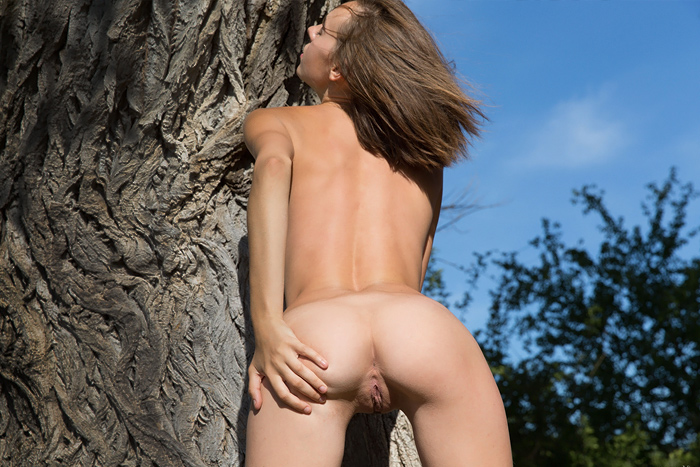 Slowly, she turned around for me, leaned into the tree and bent over, one hand on her ass cheek, pulling herself open. Her fingers crawled over her ass and made for her pussy, finding her lips and peeling them apart. Damn, I could see the inner pink so clearly now, glistening wet. If I'd been able to move I'd have vaulted over the porch and rolled down the hill to her feet, broken leg or not.
She sat down and leaned back against the base of the tree, looking up at me, with her knees apart and her hand stroking her pussy. I didn't know what to do. Should I take out my cock and start to jerk off, or was I just meant to sit and watch?
I didn't want to scare her off so I just sat there and enjoyed the show. She was teasing her pussy, fingertips tracing her slit, stroking her clit, flicking it softly as she watched me, brushing the hair from her face. She must has known she was driving me wild, because she would stroke her fingers down over her plump lips and dip them inside, just for a moment, then pull them out and stroke the wetness all over her clit again. Her head would tip backwards and her mouth would drop open every time she did it, and I so badly wanted to pull out my cock and jerk off.
She stood up and used both hands to hold her pussy open, one finger rubbing up and down her slit, getting it wet. Then she thrust her finger deeper, rocking her hips like she was riding it, and I saw her shudder with an orgasm, but just a small one, like the first of a whole chain of climaxes. My cock would give her a much bigger orgasm than that, I was thinking, imagining that sweet, hot, tight slit wrapped around my boner.
And then just as fast as it had started, it was over. She looked up at me, sucked her juice off her finger, and then got dressed rapidly, giggling. I wanted to yell down at her to wait, but I just couldn't make a sound, even as she gave me one last wave and skipped away through the grass. I watched until she was out of sight, then pulled out my cock and beat off, replaying the whole thing in my mind.
She didn't come by again before I left, but now I've had the cast removed I'm hoping that if I ever see her again, I'll be invited to play a much more active role…
If you enjoy erotic fiction and would like to contribute some of your own, you can email it to fanfiction@metart.com. We don't promise to post it in full, but we will pick out the juiciest bits to share! To see more stories and true confessions, check out our free fiction site, MyErotica.com
Amazing Content

Become Affiliated

Account & Services

Social
18 U.S.C. 2257 Record-Keeping Requirements Compliance Statement.

Warning - This site contains adult material of a sexual nature - you must be of legal age in your area to view this material.
All materials on metartx.com, are copyright © 2019 metartx.com. All models were at least 18 years of age when photographed.
0.16.0 2440ab