December 31, 2017 - by: Rose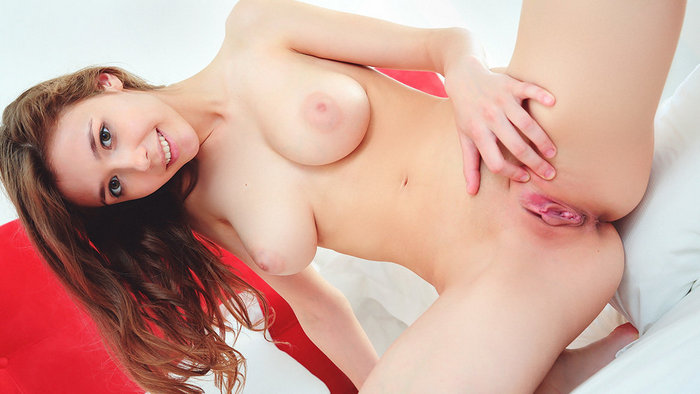 In the two years since MetArt X was created to bring you all your favorite MetArt models in explicit masturbation movies, it has gone from strength to strength. With such a stunning selection of models, and hot new natural beauties constantly emerging, it's never easy to pick a favorite – but here are the gorgeous girls you've rated as your top three at the time of writing:
Number three is a busty beauty who blows my mind, Mila Azul. The 20-year-old Ukrainian babe (seen above) has appeared on MetArt X an impressive twelve times this year, in nine movies and three photosets, and is always utterly adorable, those huge natural breasts jiggling and bouncing as she strokes herself to orgasm. Mila's pretty face and sensational body make for compelling viewing, never more so than in her movie "Sketching 2," directed by Alex Lynn, which finds her looking like a walking wet dream in a short plaid skirt and white panties. "Hot Instinct," directed by Vicente Silva, will have big boob lovers mesmerized, and is one of the highest rated movies of the year.
The second most popular model on MetArt X this year is American cutie Carolina Sweets, a petite blue-eyed brunette who has starred in five sizzling movies. 21-year-old Carolina is slender and sexy, with a stunning smile and a healthy appetite for self-pleasure. Her top rated movie "Hot And Ice," directed by Charles Lightfoot, shows her playful side as well as her undeniable, unstudied sex appeal.
The model voted number one by our members as 2017 draws to a close is Tempe. This leggy blonde bombshell (below) has appeared only twice, in one movie and one photoset, but she's made quite an impression. The 21-year-old Latvian sweetheart is tall and tempting, with the cute but sexy allure of a naughty angel. Her golden-tanned body is flawless, with perfect-handful breasts and a firm, fine ass. Check out her movie "Mirage," directed by Koenart, if you haven't seen it, and find out why she's such a heartbreaker.
Who's your top MetArt X model of 2017, and why?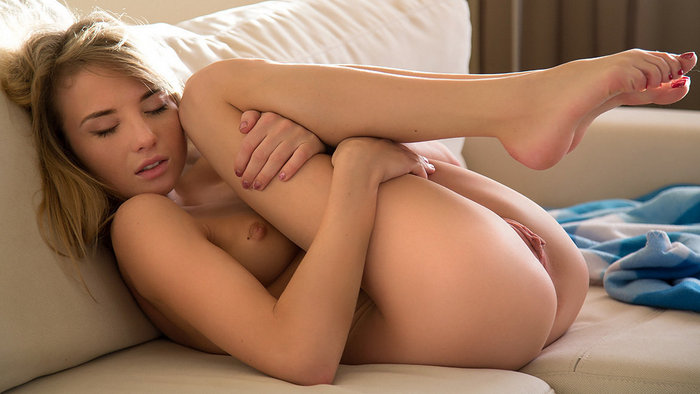 December 17, 2017 - by: Rose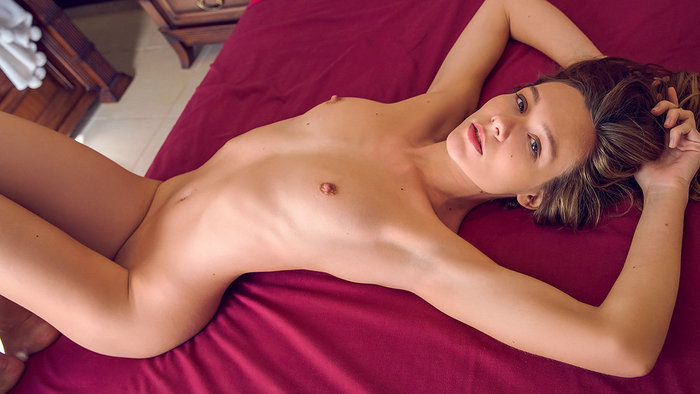 She's sweet but not shy; just a few moments into her debut movie for MetArt X, stunning new model Mirabella looks up from her phone to give the camera a smile that would melt the frostiest heart. The 24-year-old Ukrainian babe first appeared on our sister site MetArt last month, but seeing her in motion in "With Music," directed by Alex Lynn, the true extent of her sensual beauty is revealed.
The sexy brunette smiles again as she runs her hands over her silky skin, tugging her dress aside to reveal her small, perfect breasts, nipples already stiff. She teases them with the fingertips of one hand while she slides the other into her pristine white panties. Soon her pleasure grows and she peels off her panties and lies back on the bed, spreading the butterfly wings of her shaved pussy open. She moves to her knees, rocking her perfect ass back to meet her thrusting fingers as she diddles herself, coaxing her body towards what you know will be an explosive orgasm.
This is a girl who's got it all: a gorgeous face with sharp cheekbones, soft brown eyes and full lips; an athletic body with long slender legs, a world class ass, tempting pussy and cute breasts; and that indefinable sex appeal that suggests she's a rising star.
December 10, 2017 - by: Michael
Erotic fiction inspired by Georgia in "Lady Mask"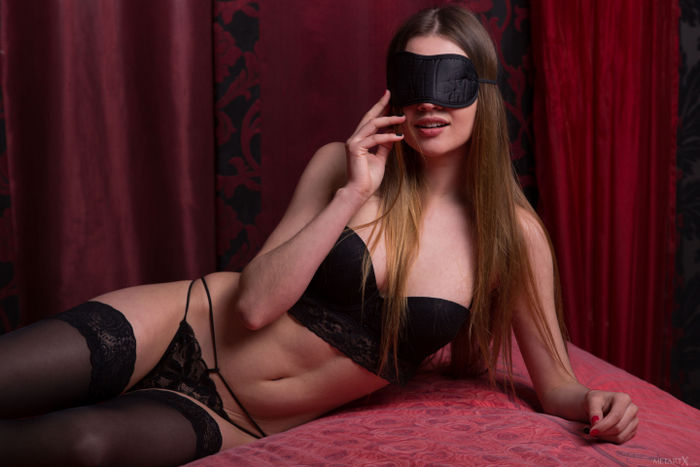 My girlfriend, Georgia, is the adventurous type. She likes to try out new things in the bedroom.
Not that you would know this from the way she presents herself. At work, she wears a business suit, nylons and flat shoes, ties her long brown hair back and maintains a very studious demeanor. You would never suspect that she is a girl with a voracious sexual appetite, and when we first began dating I had no idea she was such a sensualist.
The first few times we had sex, I was surprised by how confident and upfront she was in the bedroom. She liked to have the lights on, to undress for me and jerk me off, suck me off in front of the mirror, all these little clues that she was a very sexual person.
After we'd been dating a while she gave me a key to her apartment. One evening I went over after work as agreed, and let myself in.
"I'm in here," Georgia called from the bedroom. I threw my coat over a chair, kicked off my shoes and went in. What a sight greeted me!
She was lying on the bed, wearing black stockings, a black bra and some seriously sexy panties, all string and sin. A blindfold covered her eyes.
"Wow..." I said from the doorway.
"I'm all yours," she said, smiling. "Do whatever you want. Surprise me."
I stood over her, marveling at her beautiful body, wondering where to start. I ran my fingers over her stockings, up her calves and onto her naked thighs; then rubbed her pussy through her panties, making her smile. Her lips glistened with lipstick. My erection throbbed inside my pants. I undressed quickly.
"Turn over," I said, an idea forming. "Get on your hands and knees."
She assumed the position, giving me a perfect view of her pert bottom, skimpy panties barely covering her pussy. I reached out to touch her smooth, soft skin, my fingers gliding over her firm cheeks, pressing against her pussy, rubbing and stroking. I felt her panties begin to get damp as her wetness seeped through them, her lips parting to allow my finger to rub between them. I tugged her panties aside and slid my fingers up and down the slippery groove, dipping inside a little way, and spreading her juice all the way up to her asshole. She moaned softly, encouraging me to continue.
I pulled her panties down around her thighs, exposing her pretty, shaved pussy and tight asshole. Her lips were parted, the pink interior wet and shining. It was so tempting, and I thrust a couple of fingers inside, enjoying the wet heat, then painted the goo over her asshole. My blood was pounding as I pressed my finger against her tight ring and she moaned appreciatively. Back went my finger, scooping out more of her natural lubricant, smearing it over her puckered hole. With my free hand I squeezed and kneaded her ass cheeks, spreading her open. I pressed against her hole a little harder and grinned with delight as she pushed back against me, taking my fingertip inside.
Then it was all the way in, buried deep, and I was fingering her ass steadily as she bucked back onto me. When she was taking it easily, I slid another finger in and started scissoring them, stretching her open. I spat on my fingers to lube her up even more, scarcely believing she was going to let me fuck her ass for the first time.
"Can I…?" I started.
"Go on, stick your cock in my ass!" she urged me, her dirty words turning me on even more.
"Get it wet for me first," I said, emboldened by her eagerness. I moved around to her blindfolded face, tapping the tip of my cock against her lips. She smiled and opened wide, sticking out her tongue, and I slapped my dick against it, teasing her. She captured it with her lips and slid them up my length, sucking with just enough pressure to drive me crazy. It felt so good I couldn't take it for too long before I had to pull out of her mouth, not wanting to blow my load before I got my dick in her ass.
I moved around behind her again and stroked the head of my cock over her asshole. Pressing steadily, I eased the head inside, and then I surged forward until I was buried balls deep, her ass hot and tight around me. I went slow and gently at first, but as the wild sensation grew I started thrusting harder and faster, and she urged me on with her horny moans.
She went down onto one elbow so she could start rubbing her clit, and as she started cumming, the feeling of her ass gripping spasmodically around my shaft set me off. I fired three big spurts of cum deep inside her asshole, then pulled out to see the rest spray over her cheeks. It felt amazing.
"You can wear the blindfold next time," Georgia told me, as we lay in each other's arms, basking in the afterglow. "I have a few ideas I'd like to try out…"
If you enjoy erotic fiction and would like to contribute some of your own, you can email it to fanfiction@metart.com. We don't promise to post it in full, but we will pick out the juiciest bits to share! To see more stories and true confessions, check out our free fiction site, MyErotica.com
Amazing Content

Become Affiliated

Account & Services

Social
18 U.S.C. 2257 Record-Keeping Requirements Compliance Statement.

Warning - This site contains adult material of a sexual nature - you must be of legal age in your area to view this material.
All materials on metartx.com, are copyright © 2019 metartx.com. All models were at least 18 years of age when photographed.
0.16.0 2440ab