October 15, 2017 - by: Peter
Erotic fiction inspired by Elina in "Azure"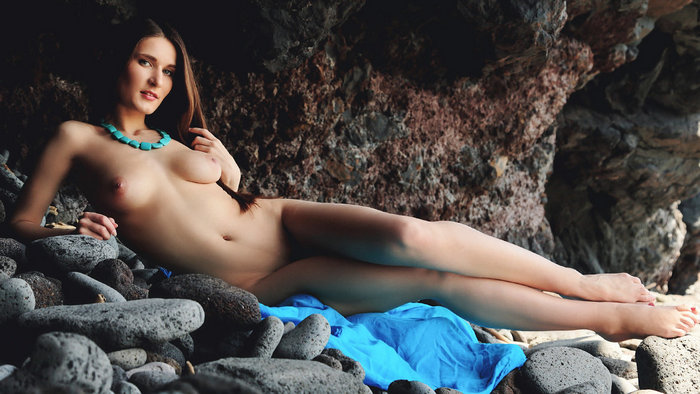 It was early morning, and I was alone on the beach, hunting for fossils after a heavy storm the night before. Rich pickings could be found if you knew where to look. But the treasure I found was far beyond my wildest dreams.
I was focused on the world directly around me, rocks, stones, loose shards. I did not bother to look up. I wandered along the coastline for an hour or so. It was deserted; there was no one else there but me. Who would be on a rocky shoreline at this time of day but a wanderer looking for treasure?
But suddenly there she was, a vision in blue not more than a few yards from me. I rubbed my eyes – could this be real? A beautiful woman, naked but for an azure sheet wrapped around her waist, reclining against the cliff face, brown hair falling over her shoulders, eyes watching me as I approached.
I looked again. She was still there. So beautiful. Still watching me. I stood motionless, the only sounds I could hear the lapping of the waves against the shore and my own breathing.
She moved, arching her back, stretching her arms above her head. It was a sexual act, there was no doubt about it. My mind flickered over fantastical thoughts – mermaid, siren, naiad – myths and legends I knew did not exist.
She was real.
I approached her and she moved, swaying and turning, smiling and beguiling. I stood before her and dared not breathe. She reached out to stroke my face with her hands, her smile shining down on me brighter than the sun.
She ran a finger over my face, and between my parted lips. Then traced my saliva over her lips, down her neck, over her breasts and around her nipples. I watched, spellbound, not daring to speak.
She took my hand and held it to her face, licked my finger softly, traced it down to her breast, smearing her saliva over her nipple. She took my other hand then and held them both to her breasts, leaning forward to kiss me. When her tongue found mine, I came alive. My hands fell from her breasts and wrapped around her body, pulling her close to me, as I kissed her passionately.
She stepped back, smiling again, and reached for the knot of her azure wrap, undoing it and letting it fall. Naked before me, her body was smooth and flawless. Perfection.
She came to me then, her hands reaching for my cock, feeling me through my pants, feeling my hardness, kneading me, making me stiffer. She unzipped my pants and I took off my shirt. I kicked off my sneakers and she knelt to pull my pants down, helping me step out of them.
Facing me, she took me in her hand and pulled on my shaft, milking me gently, teasingly. I reached for her pussy, fingers searching for her groove, finding her wet, lips parting to my touch. She pulled me to her, guiding me between her legs, eyes burning into mine, head of my cock pressed against her clit, her juices wetting me.
She took my hand, lifted her leg and made me hold her thigh up, using her own hand to stroke me against her pussy. Her labia folded over my shaft, I was almost inside her.
She pulled away, turning to face the cliff, her arms reaching up to the rock as she bent over, her gorgeous ass there for the taking. She looked at me over her shoulder intently, communicating what she wanted. I stepped to her, my hands reaching out to clutch her ass cheeks, squeeze them, pull them open. I heard her sharp intake of breath, felt her push back against me.
My cock was between her thighs and then I was entering her, gripping her hips, thrusting in. She was so tight, so wet, so yielding. I entered her fully, sliding in with ease, her pussy opening to me like a lock to a key.
She reached back, held my ass with one hand, watched me with intense eyes, pulled me into her. Deeper. She wanted me deeper. I fucked her as deep as I could, a slave to her grind. Without a word spoken, she told me how hard, how deep, how fast.
She walked her hands down the cliff face, bending further over, her ass pushing back against me even harder, her breathing faster, her eyes always watching me.
I felt her climax, her pussy tensing, gripping me like a fist, holding me deep inside her, flexing and clenching, weaves of orgasm pulsing through her. She gasped, but no sound other than her hard, sharp intakes of breath came from her.
Then she pushed me away. I was afraid she had finished with me. That I would be left wanting so much more.
But she came to me, her eyes always on mine, so close, burning with intense desire. Her hand found me, stroked me, milked me. I came, great spurts of semen firing over her belly and thighs, over her wrist and arm.
Her smile widened, pleased with me. Her hand opened, rubbing me, feeling my balls, spreading my semen over my shaft. Toying with me as I calmed.
She left me there to gather my thoughts, wrapping her shawl around her nakedness, walking away from me along the beach, never once looking back.
I dressed alone and walked away, dazed.
If you enjoy erotic fiction and would like to contribute some of your own, you can email it to fanfiction@metart.com. We don't promise to post it in full, but we will pick out the juiciest bits to share! To see more stories and true confessions, check out our free fiction site, MyErotica.com
October 08, 2017 - by: Charles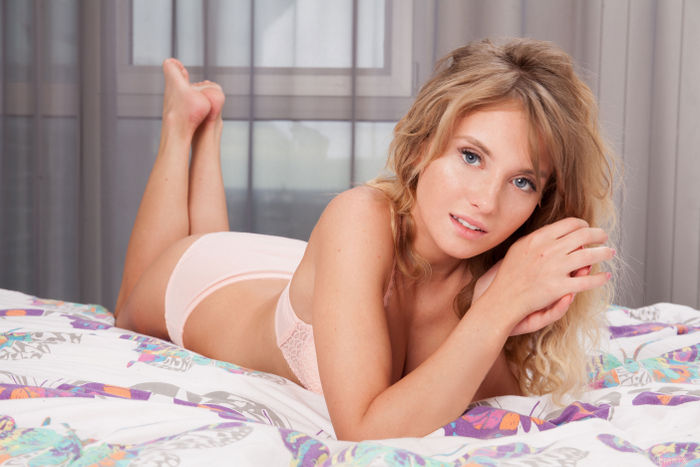 I'm a big fan of cute, fresh-faced blondes, and I have no doubt your adorable model Tempe is going to go rapidly from 'one to watch' all the way to 'hot favorite' – I've played her MetArt X movie "Mirage" over and over, and I notice something new about her every time.
There's so much to love about Tempe, from the blonde hair that tumbles over her shoulders in waves, to her intense blue eyes, and her cute little nose with its dusting of freckles – she is one of the prettiest models on the site, and that's amid stiff competition from experienced top models like Melena A, Dido A and Tracy Lindsay. It turns me on to see the way she can go from looking super cute and friendly with a fresh-faced appeal, like butter wouldn't melt in her mouth, to the most irresistible come-fuck-me gaze.
You can see it in her photoset "Daninae," she starts out with this innocent smile while she's sipping her coffee, and then once she's lying seductively on her bed this sensual expression comes over her and all that sweetness is overlaid by her sexual passion and desire. She conveys a sense that the sexual side of her personality is natural and as much an authentic part of her as the sweetness, so even though she is only 21, she seems quite confident and mature in her sexuality.
I first spotted Tempe on your sister site, MetArt, where she has a handful of beautiful nude photosets, and I was delighted to see her appearing on MetArt X, where she has let loose and revealed this wilder, more overtly sexual side.
She's got a perfect ass, and she looks so damn sexy when she's on her knees with her peachy little butt up in the air and a couple of fingers slipping inside her hot pink pussy. She has one of the tightest little assholes I've ever seen, so tiny, so pink! I can only imagine what it would be like to experience her in this mood, to encourage her to fingerbang her hot pussy and maybe even drive a finger into that tight asshole to get herself off. It's a very snug, tempting, lickable little ring. She's tall and very flexible, like a sexy gymnast, so imagine the fun positions she could get into…
Tempe looks super-hot in those cute shorts and knee high socks in her movie "Mirage," and she is really uninhibited when she starts to stroke her pussy, frigging herself hard and fast, all those delicious juicy sounds revealing how wet she's making herself. I'm willing to bet she feels really tight, hot and slippery inside, and I'd give anything to find out for myself!
I just discovered Tempe has also appeared on SexArt and The Life Erotic, so I am going to enjoy giving her my utmost attention there too. Thanks for introducing her to me, I hope everyone else will discover her too and make her the star she deserves to be!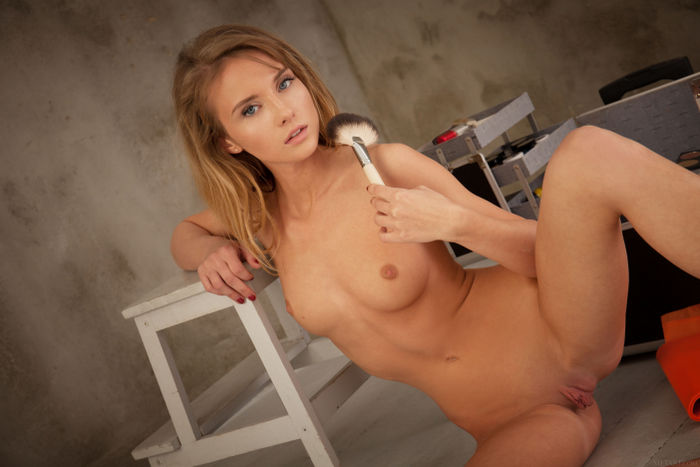 October 01, 2017 - by: Rose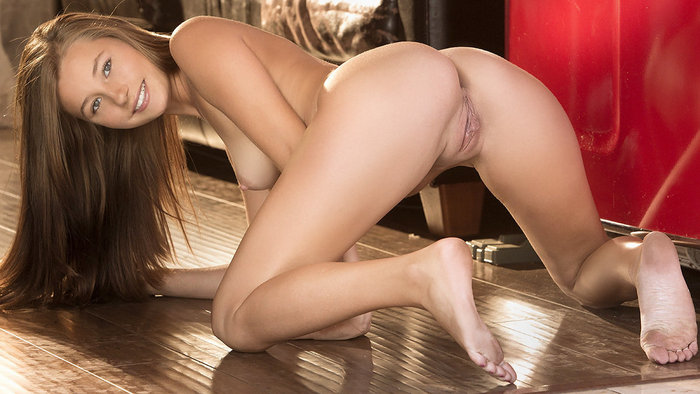 Summer may be over, but it's been a sizzling start to the new season here at MetArt X, with an abundance of sexy new models and favorite stars getting naked and naughty for you. Sybil A, Melena A, Jasmine Jazz and Cara Mell were among the top models making a welcome return, while Lady Dee, Eveline and Anastasia C all made their delicious debut. It's a tough choice, but here's my personal and entirely subjective top three models of September 2017…
Riley Ann is a stunning new 22-year-old model, an all-American blonde with a radiant smile and a playful manner. She made her MetArt X debut this month in "My Juice," followed by "Favorite Exposure," both directed by Charles Lightfoot. Riley has an unforgettable way of flirting with the camera, the innocent look in her big blue eyes contradicted by the naughtiness of her actions as she strips to display her slender, leggy physique, that is a real attention-grabber. Her firm little ass, perfect-handful breasts and shaved pussy make her the epitome of the sexy college girl to welcome in the new academic year!
Slender Ukrainian blonde Gerda Rubia made her MetArt X debut in "Hot Shots," a deceptively simple movie from Alis Locanta that allows the slow burn of her rising passion to be thoroughly explored. As one member pointed out in their comment on the movie, Gerda's facial expressions, her little moans and the way her body reacts when she orgasms make for fascinating viewing. Her beautiful, pale-skinned body moves with a sinuous grace, and when she starts humping her hips up as she approaches her climax, it's super-arousing.
But my absolute favorite this month is an adorable new model, Carolina Sweets, whose name suits her perfectly. The 21-year-old American cutie featured in three movies this month, all directed by Charles Lightfoot. "Hot And Ice" was the perfect introduction to the lovely brunette's natural charms, her sensational body with its tempting tan lines so wonderfully displayed as she masturbates uninhibitedly. Her pretty pussy gets pleasured in the garden in "Dangerous," and in the kitchen in "Ice Scream." If you like the cute and naughty, fresh-faced girl next door type, you'll certainly want to watch all three.
So that's my top three; who was your favorite MetArt X model of September 2017?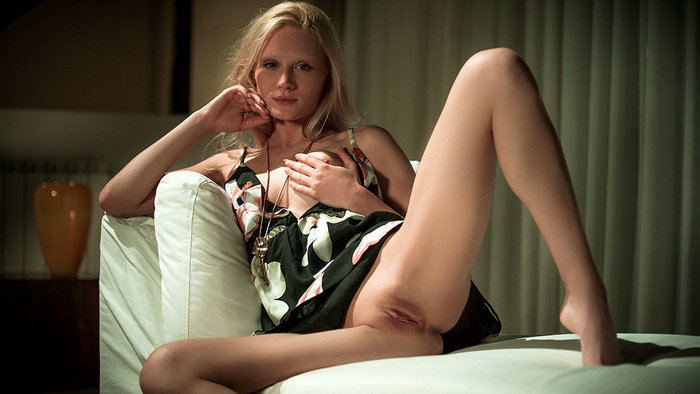 Amazing Content

Become Affiliated

Account & Services

Social