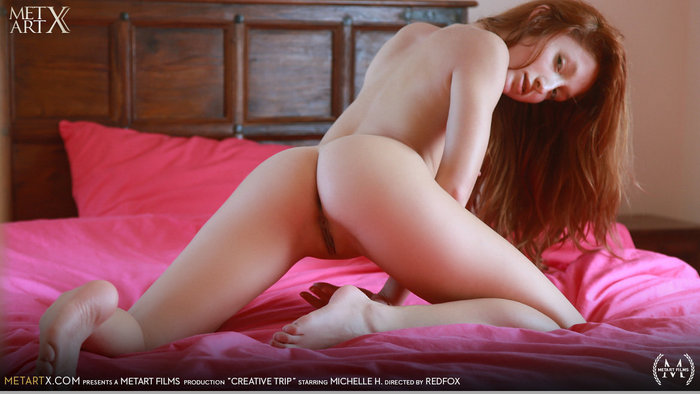 Gorgeous redhead Michelle H is one of the most popular models here at MetArt X, with a sultry, sensual look that is irresistible – all freckles, huge blue eyes and kissable lips – and a truly sensational figure. And the Ukrainian beauty isn't just a top erotic model, but a talented director too, using her experience on both sides of the camera to stunning effect.
As Red Fox, she has directed three movies for MetArt X to date, all displaying a flair for visual storytelling as well as a natural aptitude for capturing the authentic arousal of her models. "Anticipation" and "The Exciting Meeting" both feature raven-haired cutie Eselda, while she stars in the latest, "Creative Trip," herself. Hiking through the countryside in tiny denim shorts, she hitches a ride with a stranger. Back home, she gets naked and fingers her sweet shaved pussy – but who's that watching her?
I asked Michelle what inspired her to start shooting her own movies, and she revealed, "You know, a lot of factors. Firstly, over the years, working as a model, I have soaked up the atmosphere of shooting. I can't imagine my life without it. When I'm at work, I feel just like I'm at home – I feel good and comfortable, I love it. Secondly, a very important factor is that I want to create something new and extraordinary, to convey my vision of female beauty. Also another factor: I treat the models the way I would like to be treated by photographers. When they come to me on the shoot, I want them to feel comfortable and safe, to feel that I care and to be sure that I take into account their personality, character, mind and vision. I discuss everything with the model. I think it's important. I reveal her character, I look into her soul, I show her beauty. I give the models my experience and we have a very close and trusting relationship. This is what I want to embody. You will be able to get to know me better, when you see my work. My most erogenous zone is my brain. I value intellect. And I like to watch how others masturbate!"
June 11, 2017 - by: George
Erotic fiction inspired by Leonie in "Taste Me"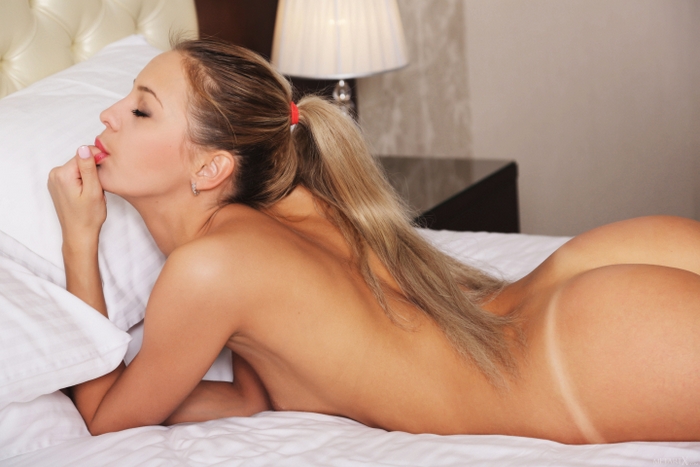 I was working as a busboy, to pay my way through college in the Midwest. The coffee shop manager was a very hot Russian woman, Leonie; she was in her thirties, with streaked blonde hair, a cute butt, and an accent that got right under my skin, especially since she would tease me all the time. Normally Leonie was very charming, but she could be unpredictable, even fiery.
One morning I came in for my shift and Leonie was in a crazy mood, because the cook had just given notice. As it happened, I had some kitchen experience, and offered to fill in while Leonie looked for a permanent replacement. She was hesitant, but agreed to give me a shot. We arranged that I would go over to her house the following day for some training.
When I showed up at her place the next day, Leonie was in a better mood. She wrapped an apron around me, seeming to linger as her arms went around my waist, and we fixed some spicy chicken wings and black beans for lunch.
Leonie was looking great in tight shorts that showed off her tanned legs, and her tits looked really nice in her tight T-shirt. She dropped a towel and bent down to retrieve it, her ass in those painted on shorts pointed in my direction; she gave me a sly smile as she saw me take notice.
"Okay, Greg. First, we are working on some Russian sweet bread." She took some dough out of the bread machine and showed me how to knead it. I got to work on that dough but couldn't help stealing glimpses of Leonie's slim body with her nipples showing nicely under the thin fabric. Kneading the dough had me thinking about her firm ass.
Innocently, Leonie brushed her hair back and got some flour on her shirt. She went to brush it off and only made it worse. She grinned at me as she stripped off her shirt, gave me a long look, then turned on her heel and walked out of the room.
When she came back in, she had changed into a tank top with some tiny bikini panties, but all I could think of was her pale, naked breasts with pointy brown nipples. She came close. I figured she was still making fun of me, but then I felt her hand slipping inside my jeans to give my butt a squeeze. I turned to her and her other hand slid in too! I was caught and we were hip to hip and she could surely feel me growing inside my jeans.
She reached up on her tiptoes and pulled my face down for a kiss. She guided my arm and planted my hand right on her firm butt cheek. Then my other hand. My hands went under her panties. Oh that was nice, so smooth...
Leonie looked up at my guilty grin. "Like what you find, Greg?" I nodded. "Mmm, I like it too. Let's eat!"
Before I knew it, Leonie sat on my lap and ground her buns down on my boner with a cute little smile. Then she fed me with her fingers.
"Oh, Greg baby, try this hot sauce on those wings. You'll like it..."
"You sure?" I was suspicious but I took a bite. Immediately my tongue and lips felt a searing, burning rush of pain.
Leonie was cracking up, of course. "Here drink more beer, Greg! It will cool you off."
I took a big swallow. "It's not working!"
"Oh, honey, I'm so sorry! I will show you a Russian trick to take the pain away. Give me your mouth, baby..."
I turned my burning lips to her and she puckered up and gave me the most amazing kiss, beautiful lips and tongue, soft and moist, arms around my neck. I gasped for air when we broke the clinch. And boy it sure worked! I didn't even notice the pain anymore. But Leonie grabbed a swig of beer.
"Now I am tingling!" she laughed, and we kissed again – cold beer, warm girl and a hot tongue! We made out like that for a while. By then she was facing me across my lap, tan legs on either side and rocking her mound in a rhythm right on top of my joint. Just her thin panties and my jeans separating us. I felt her breasts pressing against my chest. She smiled when my hand slid up inside her tank top.
Spreading my fingers, I gave her soft tit a little squeeze and she shivered. Her nipples hardened up and I pinched the firm tip. Leonie closed her eyes and sucked in her breath. She lifted her tank top over her boob and my lips sucked and I ran my tongue around the tip. Her heavy breathing and jasmine perfume were getting to me... I came up for air.
"Leonie? Should we be doing this?"
She looked down at me with mock regret. "Oh, Greg, I am so sorry, I am taking advantage of you! And I am your boss! Oh I am being such a bad boss! Can you forgive me?"
"Sure Leonie, but-"
"Greg, you must punish me, okay? I'm being very bad and I need to be spanked!" She lay down across my lap, buns up. Smack! She gave herself one to demonstrate, and pulled her panties aside, revealing her pink butthole and shining lips. Okay... Two more good ones on each side! Slap! Now she was squirming and gasping with pleasure, her plump cheeks glowing red, flushed and hot.
She slid off my lap and crouched between my knees. In an instant, she had my pants down and my cock out and was stroking and admiring it. She looked up at me with her beautiful brown eyes as she ran her tongue around the head, then took me inside her lips and sucked me deeply while stroking in a fast rhythm. Her other hand was massaging my balls and I started twitching in tiny jolts. She rose up, elbows on my thighs and began to bob her head to take me in deeper and I couldn't help thrusting. That really got her hot and I began to fuck her mouth; my cock was straining with arousal.
Leonie gave me a grin, lubed up one finger with her tongue, slid it between my cheeks and found my asshole. That was just too much and when she reached up in there and pressed down I lost it and came in great bouts of semen, launching it into the back of her throat. I pulled out and finished on her face and tits. We had a moment there, catching our breath, her big eyes locked on mine while she wiped the droplets off her face and lips to swallow it. She looked so beautiful. I was hooked.
I pulled her up to me and planted my lips on hers, didn't care that they were moist with my semen. I was still pretty hard so I lifted her up and found my way inside her slit. She lowered herself slowly down on me until I was buried all the way inside her puffy, wet pussy. With her bare feet on the chair beside me all she had to do was bounce a little so we were fucking and she could really grind on me.
It was sweaty and hot. I pulled her against me and slammed it in hard. She was gasping for breath as I kissed her and bit her neck, sucking on her tender skin until it glowed red. She came, squirming in my arms and clenching her wet pussy around me, head thrown back, eyes shut and shuddering in climax.
She lifted off me, took my hand and led me to the bedroom, getting on her hands and knees with a wicked smile. As my fingers probed between her ass cheeks, she thrust back to meet them. She took some lube from the nightstand; her cheeks were like hot pink velvet and I got that stuff right on target, the circle of her pink asshole firm and crinkled. I licked all around it and worked the lube in deep, as she shivered with pleasure.
My joint was beyond hard. I slotted myself right in the middle and ground down on her and rubbed it all over her backdoor. My glans nestled in that dip around her asshole. I pushed just a little to make contact and she stretched a bit and I was able to slip in, just the head. I kept some pressure on and gradually her slick ass surrounded me, sliding up my shaft, and I felt her buns against my hips and my cock was deep in a warm, soft place, holding me in tight. I began to withdraw through her tight sphincter, then pushed back in again, very slow but deep, my entire shaft buried with each pelvic thrust.
"Fuck yourself with your fingers, Leonie. I want you to come again!" I felt her diddling her clit.
Her asshole felt incredible, very tight and hot. My hips kept wanting to push the pace but I knew I couldn't last long so I kept it slow. Leonie began to push back to meet me. Her head dropped and back arched and I could feel her beginning to come, her anus squeezing and sucking me in. I reached and pulled her hair back so I could watch her face as she climaxed. Eyes squeezed shut and mouth open, her body bucked and she came loud and long, moaning and writhing.
No time to hold back now, I pounded deep between her clenching butt cheeks and all that pressure inside scrambled my brains while my balls and shaft pulsed and launched and emptied deep into her ass.

If you enjoy erotic fiction and would like to contribute some of your own, you can email it to fanfiction@metart.com. We don't promise to post it in full, but we will pick out the juiciest bits to share! To see more stories and true confessions, check out our free fiction site, MyErotica.com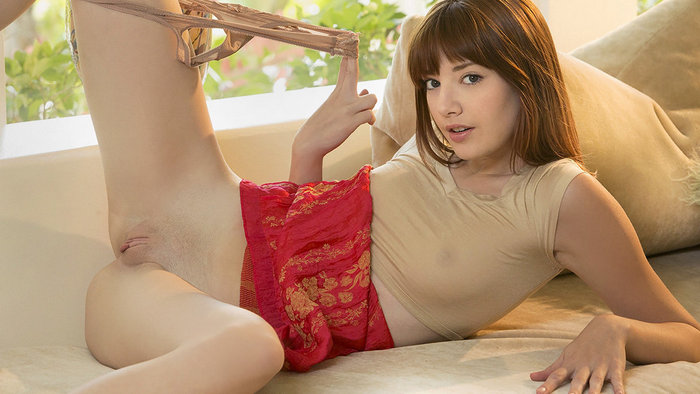 We've had a very satisfying blend of fresh new faces and popular stars here at MetArt X in May 2017. Whether you're a lover of blondes, brunettes or redheads, slender newbies or voluptuous sirens, you're sure to have found plenty to delight and arouse. Here's my entirely subjective top three models of the month…
American beauty Lena Anderson was blonde when she made her MetArt X debut late last year at the age of 18, but I think she looks even more adorable as a sultry brunette. She had two movies directed by Charles Lightfoot this month, "Essence" and "Joie De Vivre," both of which capture her sensual appeal admirably. The slender, sexy babe with the astounding ass looks simply irresistible bathed in natural light as she explores her carnal urges and finger-bangs her sweet pussy to orgasm.
I'm totally biased when it comes to my second choice, Tracy Lindsay. Not only is this golden girl one of the hottest, coolest and most charming people I've ever hung out with, but she's also a sensational performer who shares her authentic sensuality without inhibition, which means her movies are always stellar. Blonde bombshell Tracy had two new movies this month, both directed by Charles Lakante: "Light On" found her getting steamy in the sauna, while "The Lecture" was a project very dear to my heart – Tracy gets turned on and starts masturbating as she reads a story I wrote for our free fiction site, MyErotica.com. Seeing my words get her so aroused was a real thrill for me!
But my absolute favorite this month was sexy Sabrisse A, who made her MetArt X debut in "Morning Call," directed by Don Caravaggio. The stunning Czech cutie has captivated me ever since I first set eyes on her at MetArt, and I was lucky enough to meet her on location in Spain with Don a while back. Believe me, this caramel-skinned sweetheart is every bit as perfect in the flesh. Now, finally, we have a movie that shows her doing what we'd all like to do – caressing those beautiful breasts, stroking that fine ass, and pleasuring that pretty pussy. Bravo!
So that's my top three; who was your favorite MetArt X model of May 2017?
Amazing Content

Become Affiliated

Account & Services

Social
18 U.S.C. 2257 Record-Keeping Requirements Compliance Statement.

Warning - This site contains adult material of a sexual nature - you must be of legal age in your area to view this material.
All materials on metartx.com, are copyright © 2019 metartx.com. All models were at least 18 years of age when photographed.
0.16.0 2440ab